Summer with Monika [Sommaren med Monika] **** (1953, Harriet Andersson, Lars Ekborg, Dagmar Ebbesen) – Classic Movie Review 4250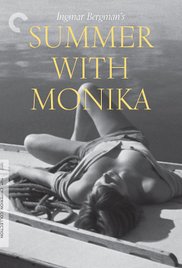 Writer-director Ingmar Bergman's sensitive but unsentimental account of the decline of a teenage love affair between the wild 17-year-old girl Monika (Harriet Andersson) and the 19-year-old youth Harry Lund (Lars Ekborg) is based on the novel by Per Anders Fogelström.
Gunnar Fischer's excellent visuals metaphorically help to convey Bergman's doomy vision of the transition of the couple's emotions from love to depression, and the downfall of their relationship from the heat of romance to unsuccessful parenthood and failed marriage. Bergman is as meticulous and incisive as ever, encouraging vibrant performances from his hand-picked actors.
Also in the cast are Åke Fridell, John Harryson, Georg Skarstedt, Dagmar Ebbesen, Åke Grönberg and Sigge Fürst.
© Derek Winnert 2016 Classic Movie Review 4250
Check out more reviews on http://derekwinnert