Summer Storm **** (1944, George Sanders, Linda Darnell, Edward Everett Horton, Anna Lee) – Classic Movie Review 6303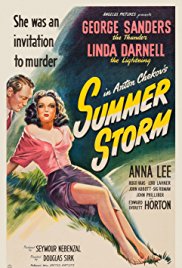 'The FLASH of a Knife… The SCREAM of a Girl… The WRECK of a Man…' Hollywood goes Russian in German-born director Douglas Sirk's really rather splendid 1944 film noir-style crime drama adaptation of Anton Chekhov's doomy romantic story The Shooting Party.
Linda Darnell is ideal as the lovely but dangerous Russian peasant Olga Urbenin who is the centre of a maelstrom of love and tragedy that drags cynical aristocrat Fedor Petroff (George Sanders) into disaster and sets town life raging as she lures him away from his fiancée.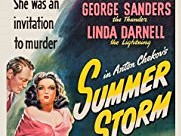 Sirk directs with style and the right melodramatic touch, while Karl Hojos's Oscar-nominated music score adds a layer of lushness. The movie is distinguished by especially fine performances. The two stars are excellent and so are Edward Everett Horton as Count Volsky and Anna Lee as Nadena Kalenin.
Also in the cast are Hugo Haas, John Philliber, Sig Ruman, André Charlot, Sarah Padden, Frank Orth, Lori Lahner [Laurie Lane], John Abbott, Don Brodie, Jimmy Conlin, John Kelly, Robert Greig, Paul Hurst, Byron Foulger, Charles Trowbridge, Charles Wagenheim and Mary Servoss.
The screenplay is by Rowland V Leigh, Michael O'Hara, Douglas Sirk and Robert Thoeren, it is shot in black and white by Archie J Stout and Eugene Schúfftan, it is produced by Seymour Nebenzel and Rudolf Joseph, and designed by Emile Kuri.
George Sanders also stars in Douglas Sirk's A Scandal in Paris (1946) and his London-set serial killer thriller Lured (1947).
Sirk's main reputation hangs on Magnificent Obsession (1954), All That Heaven Allows (1955) and Imitation of Life (1959) but oddly his favourite was the Western Taza, Son of Cochise (1954).
© Derek Winnert 2017 Classic Movie Review 6303
Check out more reviews on http://derekwinnert.com