Summer in February *½ (2013, Dominic Cooper, Emily Browning, Dan Stevens) – Film Review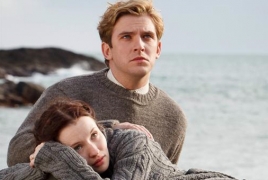 Anyone for a real-life story about love in a bohemian artists' colony in Cornwall in Edwardian England? Mmm, didn't think so. Though rewarded with the star big-screen role here, Dominic Cooper doesn't really light up either hearts or the screen playing the anti-Modernist artist Alfred 'AJ' Munnings as an arrogantly boorish, drunken rogue, who's involved in a love triangle with aspiring artist Florence Carter-Wood (Emily Browning) and their local land estate agent Gilbert Evans (Dan Stevens).
Cooper entirely misses the effortless charisma that would be necessary to explain his character's fascination, leaving you to sympathise with Browning and Stevens, only quickly to discover that their marriage isn't going to last after all. Frustrating that.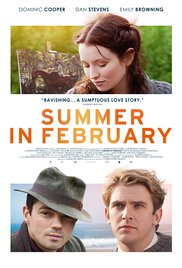 I bet it was all very exciting if you were one of the people involved at the time, but this story seems mighty ordinary, uninteresting and hard to relate to 100 years later. The characters as presented here, the performances and the film's pacing – sometimes too slow, sometimes rushed – just aren't strong enough to pull this film through.
Director Christopher Menaul has a strong record of TV work running back 35 years, but this is his first dip into cinema. It is not surprising then that it is made like a TV movie and that its place seems firmly on our fireside screens. It is competently crafted, but small-scale and intimate in a way that is going to make it difficult to get punters to part with their cash for the cinema box-office.
To be fair, it feels like a labour of love for Menaul, who does make the most of his picturesque Cornish location shooting, paints a colourful portrait of the artists' physical world and offers a few eye-catching directorial flourishes.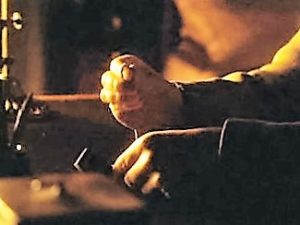 Turning art and artists into a big-screen hit subject probably needs the late Ken Russell and his cinema of excess. Restraint is not an option if you want an audience for this kind of subject. But this film is both discreet and glum and then eventually depressing, a downer sending you home fed up.
Jonathan Smith's script (adapting his book) is a plodding affair, with too much obvious, dull dialogue and too many unexciting scenes. He never really coveys a sense of urgency or explains why his story needs telling at all. The narrative really needs more flesh on its bare bones. The real-life artists' colony is now long forgotten and I'm afraid this film is not going to bring its memory back.
© Derek Winnert 2013 Movie Review
Check out more reviews on http://derekwinnert