Sully: Miracle on the Hudson **** (2016, Tom Hanks, Aaron Eckhart, Laura Linney) – Movie Review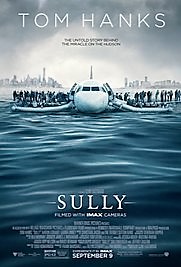 Director Clint Eastwood's 2106 real-life rescue drama Sully is just great, a warm, emotional story, extremely well told. No one could have played Sully but Tom Hanks, who is perfect in the part. It is an ideal project for Eastwood, who seems inspired by the material, keeping the movie taut and powerfully impactful, ensuring it packs a real punch, and staging the crash landing on water impressively.
Hanks plays Chesley Sullenberger, the American pilot who became a worldwide media hero after landing his damaged plane on the Hudson River to save the flight's passengers and crew. But then, after all that, he is put on a kind of industry trial with his co-pilot Jeff Skiles (Aaron Eckhart) where they have to defend their actions in front of a hostile crowd. Will his reputation as a hero be, er, Sullied?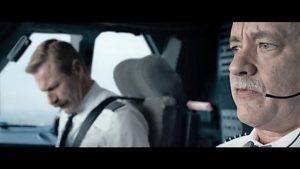 Happy ending feel-good stories make good news items on the TV but they don't usually make good movies, however this one does, big time. Eckhart and Laura Linney (as Mrs Lorraine Sullenberger) also give classy, loyal star support performances in much less showy roles.
Thanks, Clint! You made made day!
The impeccable screenplay is Todd Komarnicki, based on the book Highest Duty by Chesley Sullenberger.
Photographs of the actual plane and rescue are shown during the end credits, followed by a video with the real-life people from that day including the passengers and Captain Sullenburger.
© Derek Winnert 2016 Movie Review
Check out more reviews on http://derekwinnert.com