Stuck in Love **** (2012, Greg Kinnear, Jennifer Connelly, Lily Collins, Nat Wolff, Kristen Bell, Logan Lerman) – Movie Review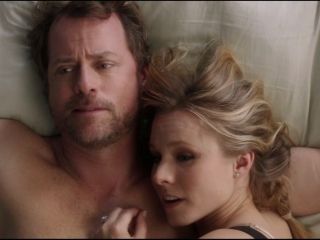 Extremely sweet, lovingly written and appealingly acted, Stuck in Love more than a shade improbable, but still a highly agreeable and very likeable romantic drama with laughs and tears. At the heart of things, Greg Kinnear is excellent as always, as an acclaimed but blocked author, stuck both as a writer and in love.
He's still in love with his ex-wife, Jennifer Connelly, stalking her by spying into the window of her home she share with her new hubby and, even more worryingly maybe, leaving an empty, ghostly place set for her at his family dinner table. He has two nice, intelligent, literate teenage kids, and they want him to move on. and is frankly a bit gob smacked when the older girl Sam (Lily Collins) announces she's got a book deal, and it's not the book he helped her on.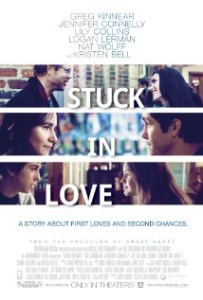 On the love front, what's the story? Well, there are three stories. (1.) Despite being obsessed with his ex, Kinnear cheers himself up a little with a kindly sex buddy in randy neighbour Kirsten Bell, who stops off regularly at his place on her beachside jogging route. (2.) The daughter Collins plays the field, arrogantly, till she meets a nice kid, Lou (Logan Lerman) who wants to get under her armoured defences. (3.) The son, Rusty (Nat Wolff), is a Stephen King fan who also wants to write, and so seeks exciting life experiences, a plan that leads him to the troubled Kate (Liana Liberato).
The film swirls you along purring contentedly in its cloud of warm-hearted, good-natured, well-meaning loveliness, at least till the end when it really pushes its luck, one step too far maybe. But then you realise with a jolt that this was where it was headed all the way along. How did writer-director Josh Boone think he could get away with it? Well, he very nearly does. (It's his first film by the way, at the age of 34, promising much.)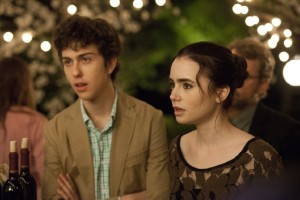 Yes, Boone's written a sweet screenplay with attractive situations and characters. It helps a lot that his script elaborately pays its dues to the value of books and is a credit to the culture of literature he's peddling. And yet the main reason for him getting away with this so well is pretty much the very nice, expert performances from the delightful ensemble cast.
It's weird: you just like everybody in the film, warts and all. And that happens very rarely. There's not a villain in sight.
Who says romance is dead?
© Derek Winnert 2013 Movie Review
Check out more reviews on http://derekwinnert.com