Stronger *** (2017, Jake Gyllenhaal, Tatiana Maslany, Miranda Richardson) – Movie Review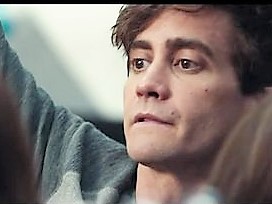 Director David Gordon Green's good, solid, strong biographical drama tells the heart-warming and inspiring real life story of Jeff Bauman, who lost both legs in the 2013 Boston Marathon bombing.
With the help of his mother Patty (Miranda Richardson), family, friends and estranged girlfriend Erin (Tatiana Maslany), he somehow manages to survive and get his life force back, capturing the hearts of the people of Boston as a symbol of hope conquering disaster.
It is a surprisingly conventional, straightforward film, with its heart on his sleeve and its message way up front to the fore. Maybe something much edgier, more dangerous, more angry, more experimental, more indie, less mainstream would make a greater movie.
But Green makes it work, well, especially the admirable and appealing Gyllenhaal makes it work. What a good actor he is! How difficult must some of this to do physically. The work is flawless, along with whatever visual effects were needed.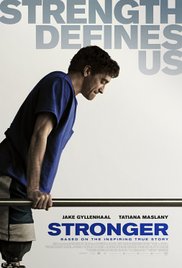 John Pollono's attentive screenplay is based on the book Stronger by Jeff Bauman and Bret Witter. In a very smooth, effective and polished work, there are one or two especially powerful dialogue scenes in the script that give the good actors chances to punch it home.
Carlos Sanz plays Carlos, the man who saved his life by running towards the bomb and not away from it, to see what help he could be, and his scene in the cafe with Gyllenhaal when the two characters met for the first time is emotional drama at its highest. 
Patty (Richardson) and Erin (Maslany) have a super angry shouting ding-dong in the parking lot that also lights the brightest of sparks. The film isn't afraid to show the rough sides of this drama and these characters, as they live through the aftermath of something so appalling. A lot of the time they are losing it, as would be expected, though that isn't the public perception of their celebrated hero.
But finally, they all get it together for the happy ending. It is only this that seems a bit contrived and pat. We have to believe in this story's happy ending, though. Without it, this would be unbearable. As it is, it is easy to have the odd tear and sniffle as it goes along. It is truly painful to watch Gyllenhaal struggling, falling, in pain, often desperate as Jeff Bauman. The film is right to make sure we are in touch with this. It does not put a Hollywood gloss on it, though it is hardly happy, easy viewing.
The 37-year-old Gyllenhaal seems a shade to old to be playing Bauman, who is a decade younger than him, and not perfectly cast as 'an ordinary man' when his whole image is so quirky and extraordinary. But what the heck is the 59-year-old Lancashire actress Richardson doing playing his mother? They seem to come from, and exist in, different worlds.
The casting is not ideal, but the actors get away with it on talent and personality. The 32-year-old Maslany is the best cast of the three, so her acting job is easier, but she captures the hard, lost, loving character we are shown.
Anyway, the whole point is that Bauman emerges as unthinkably brave and positive, an inspiration to us all in these tricky and often terrible times. And that is what makes Stronger truly valuable.
© Derek Winnert 2017 Movie Review
Check out more reviews on http://derekwinnert.com