Straw Dogs **** (1971, Dustin Hoffman, Susan George, Peter Vaughan, David Warner, T P McKenna, Colin Welland, Peter Arne, Jim Norton) – Classic Movie Review 4787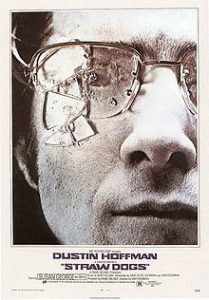 'In the eyes of every coward burns a straw dog'. Excuse me?
Dustin Hoffman stars as meek, pacifist American maths researcher David Sumner, who takes his British wife Amy (Susan George) to live in a remote Cornwall village, where drunken locals go on the rampage, George is raped, and Hoffman takes his revenge.
A Western in disguise, director Sam Peckinpah's controversial 1971 British-made psychological suspense thriller is admirable as one of his greatest films but tests our tol erance with its violent concluding sequences and complicated rape scene. It set off a heated controversy over the increase of violence in cinema in the year of A Clockwork Orange, The French Connection and Dirty Harry.
The British film censor did not like it: the violence and rape are particularly explicit and revolting, so the film has attracted much adverse criticism and a long-term British TV and video ban. The British Board of Film Classification banned it In 1984 under the newly introduced Video Recordings Act 'because of Amy's violent rape'. In a different era, it was finally was certified unedited on VHS and DVD on 1 July 1 2002.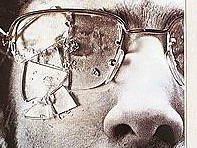 But it is a carefully controlled work by an important director working at his peak on the topics he handled best – violence and revenge. Those who tried to laugh it off the screen as a hysterical, overheated bloodbath are simply wrong. It is incredibly uncomfortable and consequently may provoke mirth, derision or rejection. The well cast young Hoffman gives an earnest, exactly targeted performance, and Peter Vaughan (as Tom Hedden) leads a fine crew of British players who know exactly what they are doing.
Peckinpah's and David Zelag Goodman's screenplay is based on Gordon M Williams's 1969 novel The Siege of Trencher's Farm.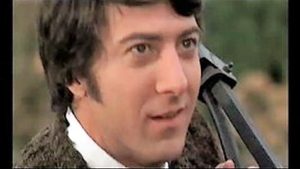 Also in the cast of Brit worthies are David Warner, T P McKenna, Colin Welland as as the Reverend Barney Hood, Peter Arne, Jim Norton, Sally Thomsett, Robert Keegan, June Brown, Donald Webster, Ken Hutchison, Len Jones, Cherina Schaer and Del Henney.
It is shot by John Coquillon, produced by Daniel Melnick and scored by Jerry Fielding, who was Oscar nominated for Best Original Dramatic Score.
A remake directed by Rod Lurie was released on 16 September 2011 with James Marsden and Kate Bosworth.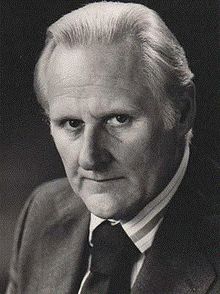 RIP Peter Vaughan (4 April 1923 – 6 December 2016).
© Derek Winnert 2016 Classic Movie Review 4787
Check out more reviews on http://derekwinnert.com