Straight Time **** (1978, Dustin Hoffman, Theresa Russell, Gary Busey, M Emmet Walsh, Harry Dean Stanton, Kathy Bates) – Classic Movie Review 5470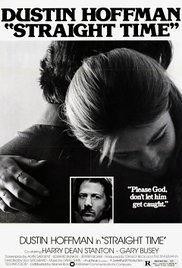 Director Ulu Grosbard's 1978 crime drama is a downbeat and depressing but still gripping and compelling movie about a seedy, weaselly ex-con released on parole but dragged back into a life of crime as a burglar. Dustin Hoffman commands the screen as Max Dembo, the hostile paroled convict who finds that he cannot go straight under the far from tender care of power-mad social worker Earl Frank (M Emmet Walsh).
Hoffman is very impressive in a difficult role, giving a harsh, vigorous performance that does not beg for audience sympathy. The acting (especially the brilliant character work from Walsh and Harry Dean Stanton as Jerry Schue) and the situations hold the attention in this uneasy, not fully realised film that still manages to involve totally none the less.
The LA underworld is sharply observed and Grosbard's handling has an effective raw energy. Michael Mann and Alvin Sargent's screenplay is based on Edward Bunker's novel No Beast So Fierce. Bunker, an ex-convict and the film's technical consultant, has a cameo here and reappeared as an actor in Reservoir Dogs (1992). Straight Time, the film that inspired Reservoir Dogs, was in pre-production when Bunker was released from San Quentin prison.
Also in the cast are Theresa Russell, Gary Busey, Kathy Bates, Sandy Baron and Rita Taggart.
Michael Mann was one of three writers who worked on the script, writing the original draft with Bunker, visiting him in jail over three months. Hoffman started out directing, but he changed his mind after a few days of filming to concentrate on his role and hired his friend Grosbard, who had originally given him the 1973 novel to read.
After Grosbard took over, he hired Alvin Sargent and Jeffrey Boam to rewrite Mann's script. Sargent, Boam and Bunker all received writing credits, but surprisingly Mann did not. Mann used the book to inspire the Neil McCauley character (played by Robert De Niro) when he made Heat (1995).
© Derek Winnert 2017 Classic Movie Review 5470
Check out more reviews on http://derekwinnert.com