Stigmata *** (1999, Patricia Arquette, Gabriel Byrne, Jonathan Pryce, Nia Long) – Classic Movie Review 4156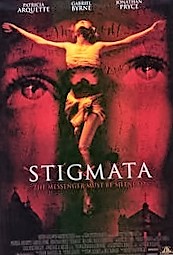 Something wicked this way comes. Vatican official Jonathan Pryce sends troubled scientist-priest Gabriel Byrne to Pittsburgh to investigate the case of a young hairdresser (Patricia Arquette), who suffers agonising paranormal attacks, causing her to bleed from her head, hands and feet.
There is much to enjoy and appreciate in this extremely glossy, flashy, sometimes thoughtful but occasionally equally silly Exorcist-style horror movie, in which it emerges that Arquette has inherited the five pains of Christ's Stigmata and priest Gabriel Byrne tracks all the problems down to an eerie Vatican plot masterminded by nasty cardinal Jonathan Pryce that challenges the very basis of Christianity.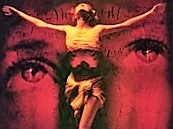 Director Rupert Wainwright's 1999 chiller is quite gripping, powerful and engaging (though repetitive as Arquette's attacks are samey, reducing their impact) while it's on, but it doesn't quite hit the stride of real quality to which it clearly aspires. Filming mostly in rain-swept city-scapes and dripping interiors, Wainwright's colourful pop-video-promo-style filming works spectacularly in bursts, but less well over all, lacking clarity and coherence.
The Vatican Catholic conspiracy stuff is the best – it would have made a better, classier movie on its own – bringing class, intelligence and some nail-biting climaxes to the nifty part of the yarn. The three principals are very effective in their meaty, well-written and developed roles. Gabriel Byrne commands the screen, Patricia Arquette is a persuasive lady-in-peril and Jonathan Pryce suitably over-the-top as the creepy cleric.
The Exorcist still remains king of the religious horrors, but this will do as a successor for the time being. The story (by Tom Lazarus, screenplay by him and Rick Ramage) and characters are fictional, but the events shown are based on actual stigmatic accounts.
Also in the cast are Nia Long, Dick Latessa, Ann Cusack, Enrico Colantoni, Thomas Kopache, Portia de Rossi, Patrick Muldoon and Rade Sherbedgia.
© Derek Winnert 2016 Classic Movie Review 4156
Check out more reviews on http://derekwinnert