Stay Hungry **** (1976, Jeff Bridges, Sally Field, Arnold Schwarzenegger, R G Armstrong, Robert Englund) – Classic Movie Review 5165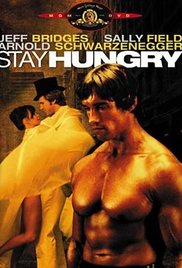 Co-writer/ co-producer/ director Bob Rafaelson's 1976 cult comedy drama stars Jeff Bridges as restless Alabama heir Craig Blake, who is suddenly orphaned. He turns his back on the country club values and is brought in by the syndicate to buy a gym.
There he finds strange new friends in weird characters who frequent it, like Mr Austria bodybuilder Joe Santo (Arnold Schwarzenegger), who is training for the Mr Universum championships. And he falls in love with another of the oddball characters, Joe's receptionist friend Mary Tate Farnsworth (Sally Field).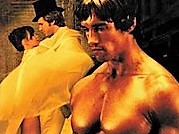 Rafaelson's determinedly oddball movie, which, among other things, reflects about the gulf between people's dreams and the actual reality, is funny, constantly surprising and beautifully acted. It is not much of a plot, just a situation and a bunch of characters, and, alas, the film's oddness alienated a mass audience, but it was warmly appreciated by a few of the cognoscenti.
Schwarzenegger won the Golden Globe for Best Acting Debut in a Motion Picture – Male.
The screenplay is by Rafaelson and Charles Gaines, based on Gaines's novel.
Also in the cast are R G Armstrong, Robert Englund, Roger E Mosley, Scatman Crothers, Fannie Flagg, Joanna Cassidy, Woodrow Parfrey,  Kathleen Miller, Helena Kallianiotes, Richard Gilliland and Ed Begley Jr.
© Derek Winnert 2017 Classic Movie Review 5165
Check out more reviews on http://derekwinnert.com