Star Wars Episode III: Revenge of the Sith **** (2005, Hayden Christensen, Natalie Portman, Ewan McGregor) – Classic Movie Review 211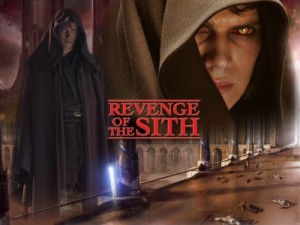 Co-writer/director George Lucas's 2005 final second trilogy series episode Revenge of the Sith bridges the gap back to 1977's original Star Wars – and what a thrilling, gleaming rollercoaster ride of amazing non-stop action it is!
More Mannequin Skywalker than Anakin Skywalker in 2002's Attack of the Clones, this time in Episode III Hayden Christensen unforgettably lights up the dark side as the young hero who turns into villain on his journey from Chosen One to being the dreaded Darth Vader.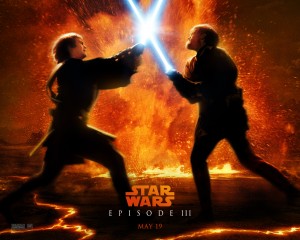 There's so much of the action that you want to beg for the movie to slow down and the characters to start chatting, eating popcorn or swigging a beer. But, no, the battles, dogfights and eye-ball-attacking sets and effects magic keep coming to till final conflict – the ultimate lightsaber duel between Anakin and his mentor, the swashbuckling Obi-Wan Kenobi (Ewan McGregor).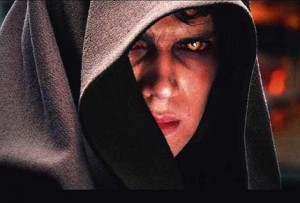 Ian McDiarmid's dictatorial General Palpatine is a wonderfully sinister creation and Frank Oz's tiny terror muppet Yoda and C-3PO (Anthony Daniels) and R2-D2 (Kenny Baker) are kept commendably uncosy this time in a suitably dark and sombre movie that really delivers what the fans have always wanted: some serious sci-fi.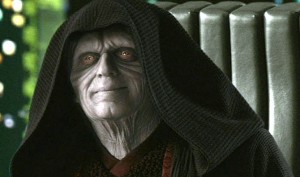 You could complain the movie's low on campy humour, the freewheeling spirit and the sheer movie magic that made the original Star Wars trilogy such a success. Or you could be annoyed that Samuel L Jackson's Mace Windu and Christopher Lee's Count Dooku seem to be there just in time to meet their fate. Two great performers pretty much wasted. But, hey, even in a glorious galaxy far, far away, nothing's perfect.
There have been murmurings of discontent about this second Star Wars trilogy, but, with all the glorious, fast-moving action, rarely have 140 minutes rushed by quite so enjoyably than here with Revenge of the Sith.
Jimmy Smits plays Senator Bail Organa, Keisha Castle-Hughes is Queen of Naboo and Bruce Spence is Tion Medon.
http://derekwinnert.com/star-wars-classic-film-review-210/
http://derekwinnert.com/star-wars-episode-ii-attack-of-the-clones-classic-film-review-212/
© Derek Winnert 2013 Classic Movie Review 211
Check out more reviews on http://derekwinnert.com/