Star! **** (1968, Julie Andrews, Richard Crenna, Michael Craig, Daniel Massey, Robert Reed, Bruce Forsyth, Beryl Reid) – Classic Movie Review 5937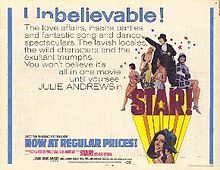 Julie Andrews is ideally cast and absolutely fabulous in director Robert Wise's stylish, thoroughly enjoyable 1968 musical biopic of Thirties British revue star and stage performer Gertrude Lawrence (1898-1952). The film was nominated for seven Oscars, winning none.
It is a tremendous show, beautifully handled by director Wise (veteran of West Side Story and Andrews's The Sound of Music) with an enormous 20th Century Fox budget which allows great big numbers (Burlington Bertie, The Saga of Jenny, Limehouse Blues, Someone to Watch Over Me, My Ship) and a lavish evocation of the era.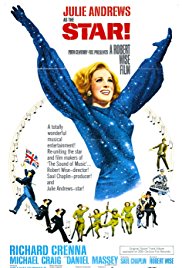 The film tells a ripping little story in William Fairchild's screenplay (though tighter might have been better – it runs a sprawling 194 minutes) and there are smashing tunes.
Andrews is a marvel acting, singing and dancing, and Daniel Massey does a great turn as Lawrence's close friend Noël Coward (and Massey's own godfather), who was still alive in 1968, her co-star in the original stage production of Private Lives. Massey won the Golden Globe Award for Best Supporting Actor – Motion Picture, the film's only award of any kind.
It was a totally undeserved resounding box-office failure, even when cut to 175 minutes and then to just 120 minutes and renamed Those Were the Happy Times. The credit 'A Robert Wise Film' was removed from this version on his request. On a budget of $14,320,000, it earned only $4,000,000 in the US, although it did slightly better abroad to earn a total of $10,000,000 worldwide.

It is shot in widescreen by Ernest Laszlo, produced by Saul Chaplin, scored by Lennie Hayton, choreographed by Michael Kidd and designed by Boris Leven.
It also co-stars Richard Crenna as American theatre producer Richard Aldrich, Michael Craig as Sir Anthony Spencer, Robert Reed as Charles Fraser, Bruce Forsyth as Arthur Lawrence, Beryl Reid as Rose, John Collin as Jack Roper, Alan Oppenheimer as André Charlot, and Jenny Agutter as Pamela Rope.
Also in the cast are Richard Karlan, Lynley Laurence, Garrett Lewis, Anthony Eisley, J Pat O'Malley, Lester Matthews, Bernard Fox and Jock Livingston.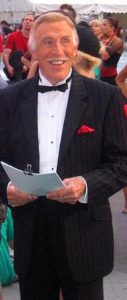 RIP beloved British entertainer Sir Bruce Forsyth CBE (22 February 1928 – 18 August 2017). It was always nice to see you. His career spanned a record more than 75 years and in 2012 the Guinness World Records recorded him as having the longest TV career for a male entertainer.
© Derek Winnert 2017 Classic Movie Review 5937
Check out more reviews on http://derekwinnert.com