Stage Door Canteen **** (1943, William Terry, Cheryl Walker, Katharine Hepburn, Tallulah Bankhead) – Classic Movie Review 3894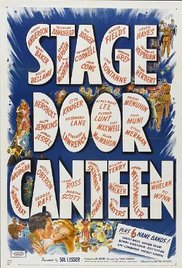 In Delmer Daves's wartime story, a galaxy of stars pops in to New York City's famed World War Two Stage Door Canteen restaurant and nightclub, where Dakota (William Terry), a young soldier on a pass, romances a pretty young volunteer hostess, Eileen (Cheryl Walker). They start a romance as they enjoy the many famous theatre and movie stars who host the wartime recreational centre for servicemen.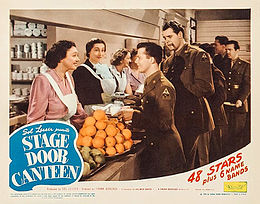 Director Franz Borzage's glittering 1943 movie is essential viewing for a nostalgic star-spotting look at Broadway's and Hollywood's Forties élite, most notably including Katharine Hepburn, Ethel Merman, George Raft, Gertrude Lawrence, Edgar Bergen, Helen Hayes, Harpo Marx, Benny Goodman, Count Basie, Paul Muni, Judith Anderson, Tallulah Bankhead, Merle Oberon, Yehudi Menuhin, Gypsy Rose Lee, Ralph Bellamy, Ray Bolger, Gracie Fields, Ethel Waters, Ed Wynn, Dame May Whitty, Elsa Maxwell, Helen Menken, William Demerest, George Jessel, Kenny Baker, Lynn Fontanne, Alfred Lunt, Peggy Lee and screen Tarzan Johnny Weissmuller doing the washing-up in a loincloth.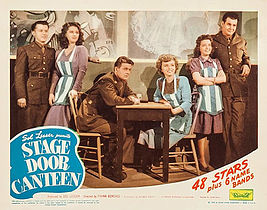 Was this Hollywood's tribute to the canteen, to young love, or just to itself? Perhaps, hopefully, is is all three.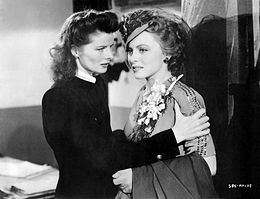 Anyway it was a charity benefit — the stars worked for free and most of the huge profits went to establish similar canteens elsewhere in America. The movie features 48 stars and six bands. There can't have been a dry eye in the house during James Monaco and Al Dubin's original song, 'We Mustn't Say Goodbye', which was Oscar nominated along with the score.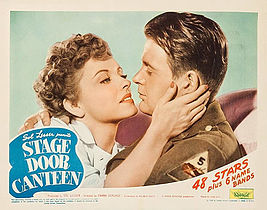 It runs an epic 132 minutes but the cut version runs only 93 minutes. Future star Ruth Roman has a walk-on in her debut.
Also in the story cast are Lon McCallister as California, Marjorie Riordan as Jean, Margaret Early as Ella Sue, Michael Harrison as Tex, Dorothea Kent as Mamie, Fred Brady as Jersey, Patrick O'Moore as The Australian and Marian Shockley as Lillian.
Daves returned to the idea with Hollywood Canteen (1944) as writer and director.
© Derek Winnert 2016 Classic Movie Review 3894
Check out more reviews on: derekwinnert.com