St Vincent **** (2014, Bill Murray, Melissa McCarthy, Jaeden Lieberher, Naomi Watts) – Movie Review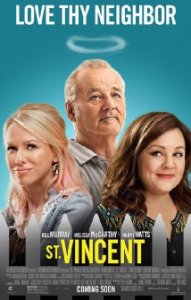 Bill Murray finds the perfect role for his grouchy persona in the misanthropic, bawdy, hedonistic Vietnam war veteran who finds himself living next door to a new neighbour, overworked, just divorced single parent Maggie (Melissa McCarthy), and her little boy Oliver (Jaeden Lieberher). Oliver is wise way beyond his years, and soon melts the old curmudgeon, who turns from reluctant baby-sitter to the kid's unlikely friend and mentor.
Two thirds of this crowd-pleasing movie give a marvellous workout to his curmudgeonly character, giving Murray some great, hysterical dialogue, until the screenplay collapses into a deep trough of appalling sentimentality and dumb twisty plot contrivances.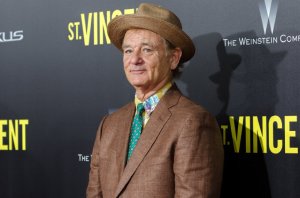 Murray gives an award-winning level performance and so does the kid, while McCarthy thankfully conceals the abrasive side of her usual screen persona, giving a very solid star support performance. However, roles for Naomi Watts as pregnant Russian stripper/prostitute Daka, Terrence Howard as gangster Zucko and Chris O'Dowd as Catholic schoolteacher Brother Geraghty are clichéd and unrewarding for these three exceptional performers.
The clever Theodore Melfi scripts and directs this two thirds of a brilliant movie. What is he thinking turning Murray into a loveable saint with a heart of gold and the movie into a fake universe where everyone is so darned nice?
Nevertheless, as the first two acts are so brilliant and hysterical, with more than enough wisdom, warmth and laughs for any movie, St Vincent is highly recommended. The Murray-Lieberher double act's a winner.
© Derek Winnert 2014 Movie Review
Check out more reviews on http://derekwinnert.com/