Spy Kids 3D: Game Over *** (2003, Antonio Banderas, Carla Gugino, Daryl Sabara, Alexa Vega, Sylvester Stallone, Salma Hayek, Ricardo Montalban) – Classic Movie Review 4206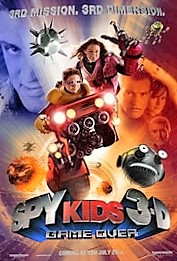 Thrilling 3D effects spark writer-director Robert Rodriguez's 2003 third part of his super teen spy series, in which spy-kid Carmen (Alexa Vega) is trapped in a video game by the evil Toymaker (Sylvester Stallone), and her brother Juni (Daryl Sabara) has to fight through its five levels to free her.
Rodriguez manages the hit trick, making a third smashing kids' thriller. Featuring a return for Spy Kids 2's rival spy kids Gary and Gerti Giggles (Matt O'Leary, Emily Osment) while Antonio Banderas and Carla Gugino are also back as dad and mom.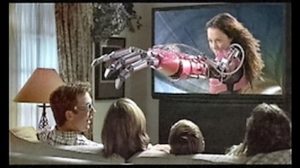 It also stars Salma Hayek, Ricardo Montalban, Holland Taylor, Mike Judge, Ryan Pinkston, Robert Vito, Bobby Edner, Courtney Jines, Cheech Marin, Danny Trejo, Alan Cumming, Tony Shalhoub, Steve Buscemi, Bill Paxton, George Clooney, and Elijah Wood, most of them reprising their previous roles.
It follows Spy Kids (2001) and Spy Kids 2: The Island of Lost Dreams (2002).
It turned out that the Game was not Over after all. There is one more sequel so far: Spy Kids: All the Time in the World in 4D in 2011.
© Derek Winnert 2016 Classic Movie Review 4206
Check out more reviews on http://derekwinnert