Split *** (2016, James McAvoy, Betty Buckley, Anya Taylor-Joy, Haley Lu Richardson, Jessica Sula) – Movie Review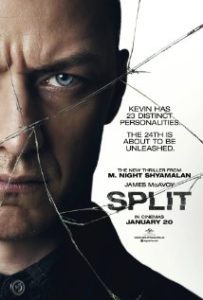 James McAvoy luxuriates in his huge star role(s) as a split-personality mental patient with no less than 24 identifiable separate personalities, who kidnaps, imprisons and torments three understandably terrified girls (Anya Taylor-Joy, Haley Lu Richardson, Jessica Sula).
Actually, as the poster tells us, as Kevin, McAvoy is supposed to have 23 distinct personalities, but the 24th is about to be unleashed – The Beast! McAvoy's character(s) is a grade-one nutter, so the girls are in dreadful trouble. Can they somehow escape, at least maybe one of them?
McAvoy is of course a very good actor, but he's not good enough to play 24 characters. Instead, he plays perhaps five, but five distinct characters is good, quite a stretch. One or two of them are, while not exactly similar, at least from the same actor's workshop. They include Kevin Wendell Crumb, Dennis, Patricia, Hedwig, Barry, Orwell, Jad and The Beast. One or two of them are a bit rancid, but McAvoy is up for it, and goes for it. It's a lot of bad karma fun.
Even though we all know that McAvoy is one nice guy, pretty much a Brit luvvie, he makes a pretty good monster, quite credible, quite chilling. I've no idea why he would be cast in this very American deranged serial-killer role, but it works.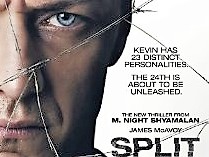 Betty Buckley enjoys a huge co-starring role as Dr Karen Fletcher. You'd expect to find some much more starry older actress in this role, Jane Fonda, Vanessa Redgrave of Diane Keaton perhaps, but Buckley really repays the director's faith in her. She helps ground what is an increasingly hysterical and unbelievable narrative. And that's the problem. The first two thirds of the film go really well. They are tense, scary, real edge-of-seat, full-on stuff. You've no idea what's coming next, what horror is coming next. OK multiple personality disorder isn't a new idea, but this movie makes it feel like it was the first one that ever used it. And that is real clever. Yes, the film feels fresh and original, even if it isn't.
Writer-director  M Night Shyamalan certainly wants to frighten us with a horror thriller, and he does! But, also, he wants to say, it's tongue-in-cheek, it's only a game, it's only a movie. This idea starts to undermine his film,  as McAvoy gets a bit camp, then a bit jokey. He's wholly better as the scary monster he starts out to be at the beginning of the movie. Hitchcock, of course, managed to be tongue-in-cheek with his horror thriller Psycho, but he carefully and expertly trod a fine line and didn't fall into self parody like this movie eventually does. Shyamalan also fancies turning his movie into a fantasy chiller, and this really starts to scupper his movie. It can't stay in one piece and bursts at the seams.
Round about the time the shrink leaves her own home to seek out McAvoy at his place, that's when it all goes wrong. She just wouldn't have done this, and nothing after this is remotely credible, though for a while longer it is still entertaining and creepy. After the movie is over Shyamalan fancies putting in a little jokey scene that doesn't make any sense, just because he can. This might have worked in some other movie but not in this one. It finally says, I've thrown in the towel trying to scare so I'll try to make you laugh instead. And Shyamalan doesn't have a great sense of humour. Nor, incidentally, is he a good actor, so he should stop the director cameos (he plays Jai, Hooters lover). However, Shyamalan takes risks and gets by on cheek and bravado.
I want to tell about the score. I just loved it. It is by West Dylan Thordson. And director of photography Michael Gioulakis does a good job making the mostly just two-set movie look smart – there's the dungeon and the shrink's office.
It might have been difficult to make but it should also have been cheap to make. So, with an obvious hit on his hands, plenty of profits are round the corner at the bank for Shyamalan this time.
© Derek Winnert 2017 Movie Review
Check out more reviews on http://derekwinnert.com