Splash! **** (1984, Tom Hanks, Daryl Hannah, Eugene Levy, John Candy) – Classic Movie Review 3145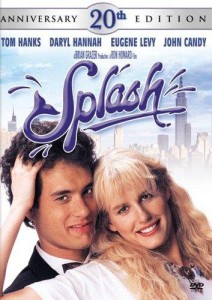 Director Ron Howard's 1984 fantasy romantic comedy is a wonderfully engaging hit funny fishy tale in which Tom Hanks made his biggest splash in the movies up to that time as the goofy guy in love with gorgeous mermaid Daryl Hannah. The script and acting are perfectly complemented by Howard's assured direction.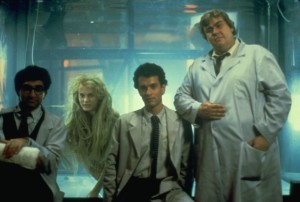 Hanks stars as Allen Bauer, a struggling young businessman who falls for Madison, the amphibious beauty he meets again after a boating accident off Cape Cod. She later swims to New York to find him. On land she grows legs, but is arrested when she walks nude through the State of Liberty tourists. But the young lovers are pursued by a wicked scientist called Walter Kornbluth, played by Eugene Levy.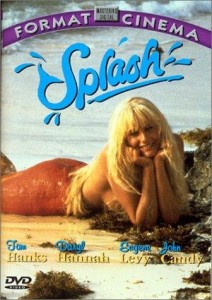 Lowell Ganz, Babaloo Mandel and Bruce Jay Friedman's gently comic, Oscar-nominated screenplay is based on a story by the producer Brian Grazer. It is basically an updated fairy-story, full of innocence and warmth, with lots of zany adventures, romance and humour. It is perfectly performed by Hanks, Hannah as the lady with a 'great pair of fins', comic bad guy Levy and then upcoming star John Candy as Hanks's tubby, philandering brother Freddie.
If you haven't seen it before, it is time to take the plunge.
Also in the cast are Dody Goodman, Shecky Greene, Richard B Schull, Bobby Di Cicco, Howard Morris, Tony DiBenedetto, Patrick Cronin, Charles Walker, David Knell, Jeff Doucette, Royce D Applegate, Tony Longo, Nora Denney, Charles Macaulay, Ronald F Hoiseck, Lou Tiano, Joe Grifasi, Rance Howard, Corki Grazer, Fred Lerner, David Lloyd Nelson, Al Chesney, James Ritz, Maurice Rice and Pierre Epstein, as well as the writers Lowell Ganz and Babaloo Mandel.
The TV movie sequel Splash, Too followed in 1988 with Todd Waring and Amy Yasbeck.
On 2 August 2016 it was announced that Disney is planning to remake Splash with Channing Tatum and Jillian Bell.
© Derek Winnert 2015 Classic Movie Review 3145
Check out more reviews on http://derekwinnert.com