Spike Island **** (2012, Elliott Tittensor, Nico Mirallegro, Jordan Murphy, Lesley Manville, Chris Coghill, Emilia Clarke, Adam Long, Oliver Heald) – Movie Review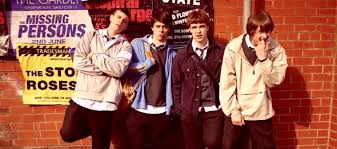 It's May 1990, and a rising young indie band of five teen boys set off to desolate but rockin' Spike Island in Cheshire to snag tickets to see the legendary Stone Roses concert. Elliott Tittensor makes his bid for film stardom at the quirky, sensitive hero Tits, and if stardom eludes him after this, then there's no justice anywhere.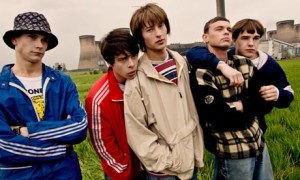 This appealing and amusing Manchester-set nostalgic youth coming-of-age drama is absolutely first rate. Following a familiar path that won't probably offer many surprises, it's not unique or even unusual, but it is special, catching you by surprise by its sheer quality.
It seems a while since we've had a Brit film this exceptional. It's like an omnibus edition of Corrie, but made with CGI, style, heart, cool sounds, a true sense of cinema and a proper, lavish-seeming budget.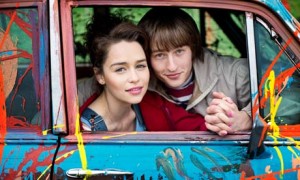 Maker of Sex & Drugs & Rock & Roll, director Mat Whitecross is proving a talent to follow: his direction goes for flashy, eye-catching visuals. Every frame looks a treat. Maybe it doesn't even need to look so great, but that's an add-on.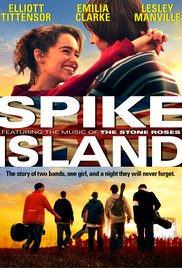 Yes, it's exceptionally well made, but above all, it's extremely intense and likeable, and the acting by a bunch of kids hopefully with big careers ahead of them is nothing short of inspired. Its ambition and achievement don't knock the charm and humour or the stuffing out of it.
It keeps going back to the story and the music, communicating them with an infectious relish. And they get the music right: it's rocking score is a triumph on its own. Great soundtrack, guys!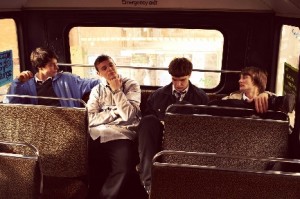 Though it's a film about teens, and a showcase for young talents, honourable mention must be made of the great and good Lesley Manville. She doesn't have much to do, but she makes her couple of show-stopping scenes totally memorable. That face is made for tragedy and she delivers big time. Incidentally, writer Chris Coghill plays Uncle Hairy, so you'll know who to praise or blame. Emilia Clarke stars as Sally.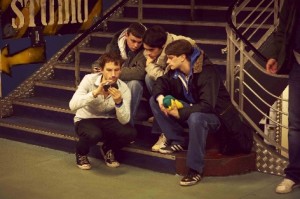 One of those fairly rare, lovely films you want to hug, Spike Island perfectly catches the mood of being young, optimistic, in love with life, music, your pals and gals, as well as the time and place. You really don't have to have heard of the Stone Roses or Spike Island to enjoy it. But you should do yourself a favour and catch up with Shane Meadows's Stone Roses documentary Made of Stone afterwards.
© Derek Winnert 2013 Movie Review
Check out more reviews on http://derekwinnert