Spencer's Mountain **** (1963, Henry Fonda, Maureen O'Hara, James MacArthur, Donald Crisp, Lillian Bronson, Wally Cox) – Classic Movie Review 3415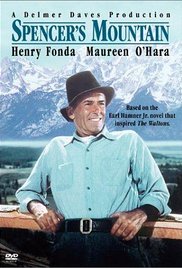 Based on the novel by Earl Hamner Jr, this wholesome, inspiring 1963 family saga is pleasingly warm-hearted and effortlessly appealing, and proved the template for The Waltons TV series which ran from 1972 to 1981, with many reunion movies afterwards.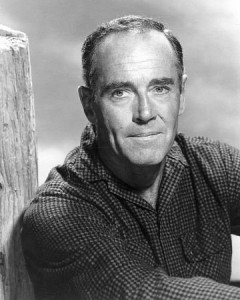 Henry Fonda stars as stern Middle American Depression valley patriarch Clay Spencer and Maureen O'Hara plays his highly capable, beloved wife Olivia, coping with rural and mountain life at Spencer's Mountain. Among the many strands of a multi-plotted adventure, Clay helps out the newly arrived preacher (Wally Cox), seeks to build Olivia a house on inherited mountain land and comes to terms with his brainy eldest son's wish to go off to college.
Shamelessly going for both the heartstrings and the tear ducts, this story is beautifully crafted by director Delmer Daves into a lovely movie here. It is gorgeously filmed in Technicolor by Charles Lawton Jr, who brings out the most in the actor's faces and mountain scenery, and there is a superb score by Max Steiner. And the film is acted to perfection by the ideally cast stars Fonda and O'Hara, as well as by James MacArthur as their eldest son Clayboy, Donald Crisp as Grandpa Zubulon Spencer and Lillian Bronson as Grandma. It is Crisp's 170th and final film.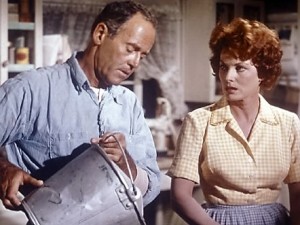 Director Daves also produced, uncredited. O'Hara's real-life daughter Bronwyn FitzSimons plays the college dean's secretary and her brother James O'Hara plays one of the Spencer brothers.
Also in the cast are Mimsy Farmer, Veronica Cartwright, Victor French, Virginia Gregg, Whit Bissell, Hayden Rorke, Kathy Bennett, Dub Taylor, Hope Summers, Ken Mayer, Barbara Nair, Larry D Mann, Robert Buzz Henry, Mike Henry, Gary Young, Ricky Young, Rocky Young, Susan Young, Michele Daves, William Breen, Rory Mallinson and Kym Karath.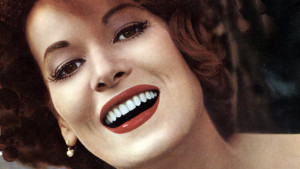 Maureen O'Hara (1920 – 2015) also starred in five films with her friend John Wayne, the most beloved being The Quiet Man (1952), but also Rio Grande (1950), The Wings of Eagles (1957), McLintock! (1963) and Big Jake (1971).

Earl Hamner Jr, the writer of the Spencer's Mountain novel and the creator of narrator of the beloved, long-running TV drama The Waltons, died of cancer on 24 March 2016 in Los Angeles, aged 92.
© Derek Winnert 2016 Classic Movie Review 3415
Link to Derek Winnert's home page for more reviews: http://derekwinnert.com/