Speedway * (1968, Elvis Presley, Nancy Sinatra, Bill Bixby, Gale Gordon, William Schallert) – Classic Movie Review 6253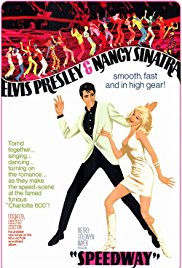 Alas Speedway is just another duff movie from the late period of Elvis Presley's film career.
The pairing of Elvis Presley as a stock-car speedway king called Steve Grayson and Nancy Sinatra as an income tax inspectress named Susan Jacks has some curio and nostalgia appeal. Bill Bixby plays Steve's wise-cracking manager who submits a poor tax return that gets scrutinised by the IRS. A musical about paying taxes or not paying taxes, with a romantic heroine who is an IRS agent, does not really compute.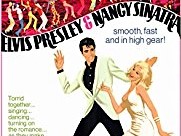 But director Norman Taurog's dull and dreary 1968 film has very little to offer beyond this mini-masterstroke of casting. And you would really have to be very interested in stock-car racing to stay the course without falling asleep at the wheel.
Sorry to say that the half a dozen songs by Mel Glazer and Stephen Schlaks and performed by Presley fall flat too. Nancy Sinatra performs Your Groovy Self by Lee Hazlewood.
Gale Gordon, the bank manager Mr Mooney in Lucille Ball's The Lucy Show, adds a little comedic spark in support. But, generally, you need to find your groovy self elsewhere.
Also in the cast are Bill Bixby, Gale Gordon, William Schallert, Victoria Paige Mayerink, Ross Hagen, Carl Ballentine, Poncie Ponce, Harry Hickox, Christopher West, Beverly Powers, Richard Petty, Buddy Baker, Harper Carter, Bob Harris, Michelle Newman, Courtney Brown, Diana Brown, Patti Jean Keith and Carl Reindel.
It is written by Phillip Shuke, shot by Joseph Ruttenberg, produced by Douglas Lawrence, scored by Jeff Alexander and designed by George W Davis.
© Derek Winnert 2017 Classic Movie Review 6253
Check out more reviews on http://derekwinnert.com