Spartacus ***** (1960, Kirk Douglas, Laurence Olivier, Jean Simmons, Peter Ustinov, Tony Curtis, Charles Laughton) – Classic Movie Review 122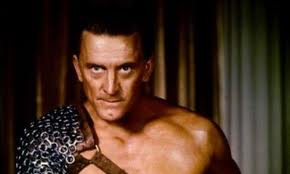 'I am Spartacus.'
Kirk Douglas is on his finest heroic form in the role he'll always be remembered for as the fighter Spartacus who leads the slaves in a foolhardy attempt at revolt against the might of Rome in 73BC. Stanley Kubrick's vast, sprawling 1960 epic cost $12 million and was a mammoth, two-year-in-the-making enterprise. It won four Oscars, honouring Peter Ustinov for best supporting actor, Russell Metty's colour cinematography, Alexander Golitzen's art direction and costume design (Valles, Bill Thomas).
Unfortunately, this legendary movie is slightly showing its age, though that isn't rare among the rash of epics of the era. And, despite all the awards and its deserved great fame, it's a mixed bag of goodies. But ultimately there are more treats than disappointments inside.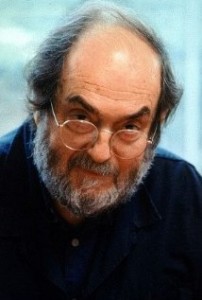 On the downside, the story seems too long, slow moving and occasionally sluggish in the telling. Alex North's score is pompous and unsubtle, and the special effects for the big battle sequence and Rome backgrounds are wobbly and none too impressive just when they need to be. There are some unconvincing performances by miscast actors, particularly John Gavin's Julius Caesar, John Ireland's Crixus, John Dall's Marcus Gallabrus and Charles McGraw's Marcellus.
Much better, however, are Charles Laughton (as Gracchus), Jean Simmons (Varinia), Herbert Lom (as the pirate Tigranes Levantus) and Tony Curtis (the handsome slave Anoninus), making the most of their star roles, though even they seem slightly less than perfectly cast, having difficulty inhabiting their roles fully.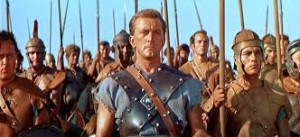 But the script by Dalton Trumbo (in his first credited screenplay since he was blacklisted a decade earlier) is hugely impressive. Based on Howard Fast's bestseller, it's very much a thinking person's epic. Trumbo provides riveting characters, delivers unusually articulate, intelligent dialogue, constructs many splendid scenes and makes the movie have sense and meaning in a largely successful attempt at a universal parable about the battle for human freedoms against the forces of oppression.
Douglas was after a Zionist parallel with the story of the Jewish people; Trumbo wanted to comment on the Cold War. The two clashed on what to do, but somehow it works.
There is some excellent acting, too, led by Douglas, who commands the screen magnificently, and there's a brilliantly chilling performance from an on-fire Laurence Olivier as a decadent Roman leader, Crassus. Arguably, best of all, though, is the Oscar-winning Ustinov, marvellously camp and entertaining as a slave trader, Batiatus. (Weirdly, Ustinov ended up as the only actor ever to win an Oscar for a Kubrick film.)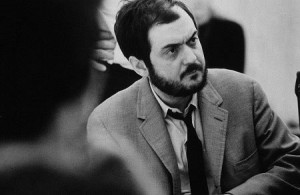 Kubrick was perhaps not the ideal director for a Roman epic. He was brought in as a reluctant hired hand by executive producer-star Douglas, who'd worked with him on Paths of Glory (1957), after he had sacked original director Anthony Mann (who filmed the early Libya sequences, the salt mines sequence and the gladiator school scenes). Douglas later regretted falling out with Mann, and hired him for The Heroes of Telemark.
Kubrick reworked the script constantly during filming, desperately trying to turn it into his usual personal project, which to some extent he has succeeded in doing. Trying to mould this goliath of a movie story into an intimate epic must have been a very difficult task and the effort slightly shows. But then he didn't have final control over the script, which he thought full of moralising, and he and Douglas clashed constantly.
Kubrick and cinematographer Metty also fought when Kubrick constantly interfered with his work. The actors started writing lines of their own, with Ustinov providing new dialogue for an unhappy Laughton. With battles for control everywhere on set, it's amazing the film turned out as well as it did.
Saul Bass's credit titles are also on the film's credit side, as is the climatic battle sequence, which he designed.
Also in the cast are Nina Foch, Woody Strode, Joanna Barnes, Harold J Stone, Peter Brocco, Paul Lambert, Robert J Wilke, Nick Dennis, John Hoyt, Frederick Worlock, Dayton Lummis, Lili Valenty, Jill Jarmyn, Jo Summers, Autumn Russell, Kay Stewart, Linda Willams, Louise Vincent, James Griffith, Joe Haworth, Vinton Haworth, Dale Van Sickel, Carleton Young, Hallene Hill, Paul E Burns, Leonard Penn, Harry Harvey Jr, Eddie Parker, Harold Goodwin, Chuck Roberson, Saul Gorse, Charles Horvarth, Gil Perkins, Dick Crockett, Terence de Marney, Bob Burns, Ted de Corsia, Roy Engel, Joe Canutt, Tap Canutt, Richard Farnsworth, Bob Morgan and Boyd 'Red' Morgan.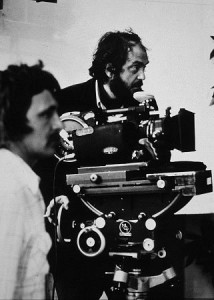 Spartacus was beautifully restored by Robert A Harris with a new 65mm negative and re-released in 1991 with the famous, censored 'snails and oysters' bath time gay seduction scene between Olivier and slave Curtis now intact (with Anthony Hopkins dubbing Olivier's voice as the original soundtrack was missing). It runs four minutes longer than the original 197-minute release.
It's hugely to Douglas's credit that, as producer, he honourably insisted on hiring the blacklisted Trumbo and blacklisted actor Peter Brocco. This effectively ended the notorious and shameful blacklist.
Scenes were filmed at William Randolph Hearst's castle of San Simeon, which The Godfather later used.
George Kennedy's debut as one of the soldiers shouting 'I am Spartacus.'
Douglas later commented: 'I didn't play Spartacus. I am Spartacus.'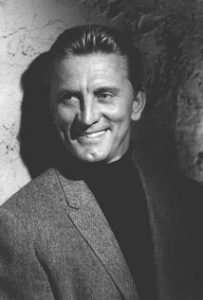 Kirk Douglas celebrated his 100th birthday on 9 December 2016 – a real red letter day!
© Derek Winnert 2013 Classic Movie Review 122
Check out more reviews on http://derekwinnert.com/