Sparrows Can't Sing **** (1963, James Booth, Barbara Windsor, Roy Kinnear) – Classic Movie Review 8595
Director Joan Littlewood brings her Stratford East London stage hit to the screen with all its sparkle and enthusiasm intact in the 1962 British black and white comedy Sparrows Can't Sing.
It is a thoroughly enjoyable slice of cockney life, set in Stepney, where sailor Charlie (James Booth) returns from two years at sea to find that his home has been demolished and that his wife (Barbara Windsor) has run off with married bus driver Bert (George Sewell). Booth looks for Windsor, swearing revenge on Sewell.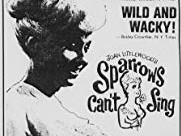 Littlewood films in a freewheeling, attractive style, painting a vivid picture of changing East End life through the extensive location shooting (though there is also studio filming at Merton Park Studios, Merton, London, England). The tone though is larky and knees-up, ignoring the pain of infidelity and social decay. But, perhaps best of all, it can be simply enjoyed for being full of famous British character actors, who thereafter spent their lives playing these loveable cockney stereotypes.
The screenplay by Stephen Lewis and Joan Littlewood is based on the play Sparrers Can't Sing by Stephen Lewis.
Also in the cast are Roy Kinnear, Avis Bunnage, George Sewell, Barbara Ferris, Murray Melvin, Arthur Mullard, Victor Spinetti, Brian Murphy, Griffith Davies, Peggy Ann Clifford, Wally Patch, Bob Grant, Stephen Lewis, Jenny Sontag, May Scagnelli, Fanny Carby, Yootha Joyce, Janet Howse, Queenie Watts, Harry H Corbett, Marjie Lawrence, Glynn Edwards and Gerry Raffles. It is the last film of Edie Martin.
Sparrows Can't Sing, maybe, but Barbara Windsor can. She sings the title song written and composed by Lionel Bart. Windsor was nominated for a Best British Actress BAFTA Film Award for this film.
Subtitled American versions exist and it is supposedly the first English language film to be released in the US with subtitles.
Brian Murphy and Yootha Joyce later play husband and wife in the TV sitcoms Man About the House (1973) and George & Mildred (1976).
The Kray Twins turned up during filming to persuade local residents to co-operate with the filming. Pat Connolly, one of their bodyguards and club bouncers aka Big Pat, appears in a scene at the Flamingo Club.
It was released on Warner Home Video in 1990 in the UK.
Sparrows Can't Sing is directed by Joan Littlewood, runs 94 minutes, is made by Carthage Films and Associated British Picture Corporation, is distributed by Elstree Distributors (1963) (UK), Warner-Pathé Distributors (1963) (UK) and Janus Films (1963) (US), is written by Stephen Lewis and Joan Littlewood, based on the play Sparrers Can't Sing by Stephen Lewis. is shot in black and white by Max Greene and Desmond Dickinson, is produced by Donald Taylor, is scored by James Stevens and Stanley Black, and is designed by Bernard Sarron.
© Derek Winnert 2019 Classic Movie Review 8595
Check out more reviews on http://derekwinnert.com