Spaceballs ** (1987, Mel Brooks, John Candy, Rick Moranis, Bill Pullman, Daphne Zuniga, Dick Van Patten) – Classic Movie Review 4043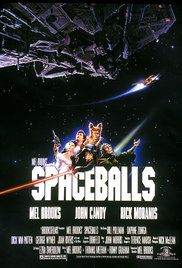 Co-writer/co-producer/director/ star Mel Brooks's bawdy 1987 movie sci-fi send-up and spoof of Star Wars is a slack but amiable series of sight gags and verbal jokes, most of them not exactly hilarious but some of them just about funny enough.
Bill Pullman and John Candy stars as spaceman Lone Starr and his right-hand helper Barf, who must rescue the Princess Vespa (Daphne Zuniga), daughter of the king (Dick Van Patten), from the wicked clutched of Lord Dark Helmet (Rick Moranis). President Skroob has sent Dark Helmet to steal planet Druidia's abundant supply of air to replenish their own. It's up to Lone Starr to stop them.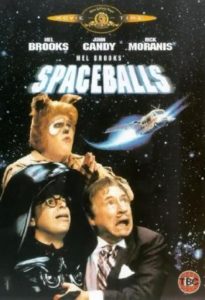 The best laughs come from Pizza the Hutt (voice of Dom DeLuise), Brooks as both planet Spaceballs' President Skroob and the tiny Yogurt, Candy as space canine Barf the Mawg ('I'm my own best friend') and Moranis as the daftly dastardly Dark Helmet. Alien's John Hurt makes an iconic appearance as John Hurt.
The SFX is by Apogee and Industrial Light and Magic.
It is fairly weak for one of Brooks's spoofs, but a considerable improvement on History of the World: Part I (1981).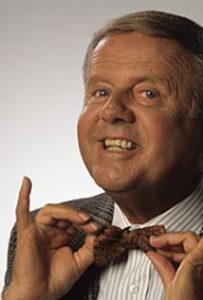 Dick Van Patten (1928–2015).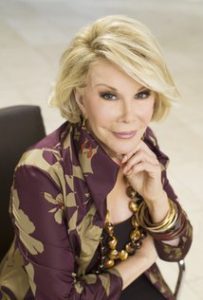 Joan Rivers (1933–2014) provides the voice of Dot Matrix.
© Derek Winnert 2016 Classic Movie Review 4043
Check out more reviews on http://derekwinnert