Son of Saul ***** (2015, Géza Röhrig) – Movie Review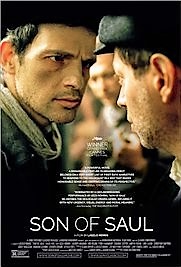 Hungary-born László Nemes's shatteringly horrific Auschwitz drama won the 2015 Oscar and Golden Globe for Best Foreign Language Film, as well as the Grand Jury Prize at Cannes. It is hard to praise this devastatingly harrowing Holocaust film too highly.
It is a pure, simple and unsentimental film, focusing entirely on the mindset of one victim, Géza Röhrig, playing the titular Saul Ausländer. He's a Hungarian prisoner working as a member of the Sonderkommando, one of the mostly Jewish prisoner detail forced to aid with the disposal of gas chamber victims in Auschwitz in 1944.
Working in a crematorium where he is forced to burn the corpses of his own people, Saul finds a boy, thinking that he is his son, and fixates on trying to find a rabbi and give him a proper burial, to salvage the boy's body from the flames. In this, on the way to his own death, he finds some kind of moral survival and spiritual salvation.
Nemes says: 'It is the hope of this film that, even in the darkest hours, there might be a voice within us that allows us to remain human.' If so, it looks like a close thing. This battle between good and evil is mostly working out pretty well for the forces of darkness.'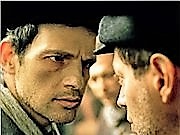 Both emotionally and technically this is a quite extraordinary film. Nemes focuses entirely on his main character's individual experience, refusing to be involved with different points of view, just like his character.
Cinematographer Mátyás Erdély shoots in long, complex takes to give the feeling a real situation, uses shallow focus to suggest how little the main character is actually seeing or allowing himself to comprehend what is happening, and focuses on close-ups of the main actor's blank, inexpressive face so the audience co-exists with the main character in a totally immersive experience.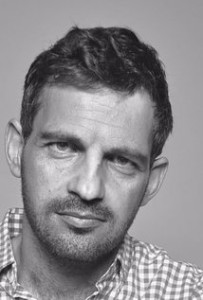 Son of Saul is the antidote to Life Is Beautiful, refusing to sentimentalise or find any comfort in this darkest of all situations. There are no good deeds or good men to save the world. There are no heroes, and there is no story either, really, in a conventional sense.
Son of Saul is purely emotional and spiritual, excluding the idea of being thought-provoking, a strangely numbing, chilling, deadening experience that leaves you devastated, shocked once again at man's complete inhumanity as if this is the first time you had heard of the wartime German atrocities. It is a horror film, but Nemes prefers not to show the monster, and the horror is all in your mind.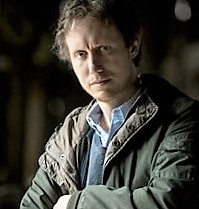 Nemes says: 'We tried to be very restrained. Cinema seems more and more keen on giving more and more. I think less is more and the right way was to rely on the imagination of viewers to reconstruct something that cannot be reconstructed. For them to create in the mind the experience of the extermination camp.'
It is Nemes's feature debut. He shows he is a fearless film-maker, and doesn't put a foot wrong in a minefield. His second film is to be Sunset, a coming-of-age drama set in 1910 Budapest, as a girl matures into a strong and fearless young woman.
The London Film Critics' Circle voted László Nemes Director of the Year.
© Derek Winnert 2016 Movie Review
Check out more reviews on derekwinnert.com