Son of Fury **** (1942, Tyrone Power, Gene Tierney, George Sanders, Frances Farmer, Roddy McDowall, John Carradine, Elsa Lanchester) – Classic Movie Review 4656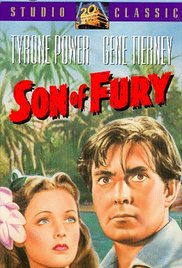 Director John Cromwell's rousing 1942 romantic period adventure finds Tyrone Power and George Sanders both on top form.
Power stars as young Benjamin Blake, a Victorian nobleman's bastard son, and George Sanders plays his caddish uncle, Sir Arthur Blake, whom young Ben is bound to serve as his bonded servant.
Cheated out of his estate by his uncle, Benjamin does what a man's gotta do – he runs away to sea, jumps ship, goes to the South Seas to make his fortune, and then falls for young Polynesian woman Eve (Gene Tierney) on a tropical isle. All this just so that he can return to claim his birthright.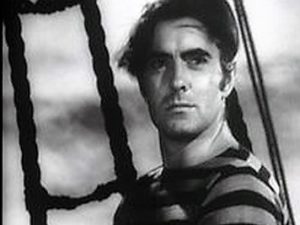 Entertainingly and lavishly made, with bright, full-blooded performances, this is such an engaging picture that it is easy to forgive the slight sag in the middle for the romance, particularly as there is a strong, eagerly awaited climax when Power avenges himself on Sanders. It is a pity that Arthur Miller's photography is in black and white when this kind of movie cries out for Technicolor. Philip Dunne's literate screenplay is based on the novel by Edeson Marshall.
Roddy McDowall plays Benjamin as a boy. Also in the cast are Frances Farmer, John Carradine, Elsa Lanchester, Halliwell Hobbes, Harry Davenport, Dudley Digges, Kay Johnson, Ethel Griffies, Arthur Hohl, Pedro de Cordoba, Heather Thatcher, Lester Matthews and Charles Irwin.
© Derek Winnert 2016 Classic Movie Review 4656
Check out more reviews on http://derekwinnert.com