Something To Talk About *** (1995, Robert Duvall, Gena Rowlands, Julia Roberts, Dennis Quaid, Kyra Sedgwick) – Classic Movie Review 4986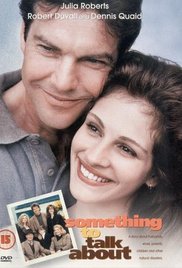 Director Lasse Hallstrom's exceptional, appealing 1995 domestic comedy drama about the affairs of a rich family in the American South really is something to talk about tomorrow with your friends or in the workplace.
Robert Duvall and Gena Rowlands bring real distinction and a touch of class to the piece as the parents Wyly and Georgia King, but Julia Roberts also impresses as their daughter Grace and so does Dennis Quaid as her straying husband Eddie Bichon.
In the story Grace, who is managing her father's riding-stable, discovers that Eddie is cheating on her with another woman.
The thoughtful, intelligent script is by Callie Khouri, the author of Thelma and Louise and Divine Secrets of the Ya-Ya Sisterhood.
Kyra Sedgwick plays Emma Rae King, and also in the cast are Brett Cullen, Haley Aull, Muse Watson, Anne Shropshire, Ginnie Randall, Terrence Currier, Rebecca Koon, Rhoda Griffis, Lisa Roberts, Deborah Hobart, Amy Parish, Helen Baldwin, Libby Whitehouse, Punky Leonard Michael Flippo, Beau Holden and Noreen Reardon.
It is also known as Grace under Pressure.
© Derek Winnert 2017 Classic Movie Review 4986
Check out more reviews on http://derekwinnert.com