Something in the Air – Film Review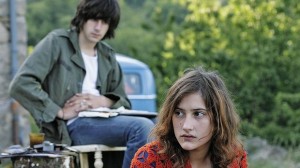 Best film this week, and most weeks, is the French engage-brain youth retro-drama Something in the Air, by Olivier Assayas (director of Carlos). It's 1971 in Paris, and Clement Metayer plays, just right, a rather infuriating, quite passive-aggressive, none-too-charismatic high school student, swept up in the turmoil of the times. He's a bit of a crazy, mixed-up kid, but with quite a load of inner self-confidence that's going to be his bridge over troubled waters.
Joining a radical counter-culture group, he's involved in vandalism, then in the near-death of one of the security guards at his school, leading him to flee to Italy, then later to London. A would-be painter and film-maker, he's dithering between his personal ambitions and his radical ideas, torn between his lust for an elusive girl and interest in one who actually loves him, and torn between the rival claims of art and commerce in a career.
Any film that manages to have both the Ponte Vecchio in Florence and the Electric Cinema in Notting Hill Gate as backdrops just has to be seen! This one packs in enough ideas, drama and good dialogue for half a dozen movies. That it vibrantly captures the time and place, the fads and foolishnesses of the day to perfection is a huge credit to Assayas, who no doubt uses a lot of his memories on this one, as he was around as a youngster himself at the time.
At the same time, it asks a lot of questions, and waits for you to answer them in your own time after the movie's ended. Though it's a long film, Assayas hones in on his characters and situations with much urgency, in an effective semi-documentary realist style. If only British films were regularly about something, like this one is, biting off plenty and chewing it over intelligently and entertainingly.
It's a director's film, but he encourages good, fresh work from all his young, often inexperienced actors, including Lola Creton, Carole Combes and Felix Armand.
(C) Derek Winnert 2013