Society *** (1989, Billy Warlock, Devin Devasquez, Evan Richards, Ben Meyerson) – Classic Movie Review 5471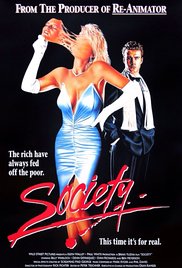 Director Brian Yuzna's 100-minute 1989 cult black comedy cult body horror film is designed around a gross-out 10-minute, special makeup effects extravaganza climax, which attempts to make some sort of comment about the wealthy feeding on the lower classes.
The 28-year-old Billy Warlock stars as young teenage boy Bill Whitney, who feels like an outsider in his palatial Beverly Hills home and is alienated from his friends and family. His delusions turn to reality as the society of the title is revealed when Bill returns home to find a party in full swing and that his family is part of a grotesque orgy cult for the social elite.
Yuzna directs confidently and slickly, and undoubtedly creates an eerie sense of unease. But the plot in the screenplay by Woody Keith and Rick Fry loses grip on all logic in its desire to reach its gut-wrenching, surreal climax, which is guaranteed to thrill many viewers and to offend many others.
The makeup (some of it very good, some just looking like play-dough) is by Screaming Mad George.
Also in the cast are Devin Devasquez, Evan Richards, Ben Meyerson, Charles Lucia, Connie Danese [Concetta D'Agnese], Patrice Jennings and Heidi Kozak.
It is advertised as 'from the producer of Re-Animator' – that's Brian Yuzna. Society's producer, Keith Walley, is the executive producer of Bride of Re-Animator (1989).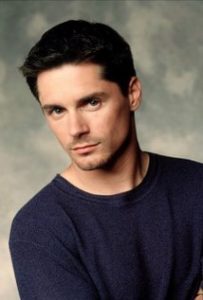 Billy Warlock [aka William Alan Leming] played Eddie Kramer in 45 episodes of TV's Baywatch (1989-1992), Frankie Brady in 589 episodes of Days of Our Lives (1986-2007) and A.J. Quartermaine in 236 episodes of General Hospital (1997-2003).
© Derek Winnert 2017 Classic Movie Review 5471
Check out more reviews on http://derekwinnert.com