So Dark the Night ***½ (1946, Steven Geray, Ann Codee, Micheline Cheirel, Eugene Borden, Egon Brecher, Helen Freeman) – Classic Movie Review 5631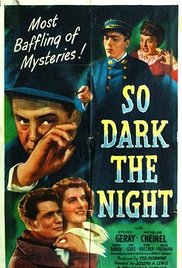 Director Joseph H Lewis's stylish 1946 low-budget noir thriller stars dashing Steven Geray as Henri Cassin, the Parisian copper who comes a cropper when he takes a takes a rare holiday at a small hotel in the French countryside and finds himself investigating the murder of his new fiancée and the neighbouring farmer she was betrothed to. Murder mystery and psychological psychodrama are skillfully combined in this truly dark voyage into the mind of a murderer.
It is an ambitious support feature that features a clever script by Martin Berkeley and Dwight Babcock, strong direction and a suitably gloomy atmosphere, with an unusual French countryside rural setting.
Geray (1904–1973) makes the most of this rare opportunity as a lead player to show exactly what an accomplished actor he can be.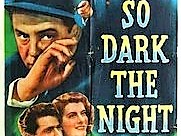 It is a remarkable and underrated whodunit that is motored by a continuous sense of palpable tension and leaves a lasting impression of unease.
It also stars Ann Codee as Mama Michaud, Micheline Cheirel as Nanette Michaud, Eugene Borden as Pierre Michaud, Egon Brecher as Dr Boncourt, and Helen Freeman as the widow Bridelle.
Also in the cast are Theodore Gottlieb, Gregory Gaye, Jean del Val, Paul Marion, Emil Ramu, Louis Mercier, Billy Snyder, Frank Arnold, Alphonse Martel, Adrienne D'Ambricourt, Marcelle Corday, Andre Marsaudon, Francine Bordeaux, Esther Zeitlin and Cynthia Gaylord.
It runs 72 minutes, is released by Columbia, is based on a story by Aubrey Wisberg, is shot in black and white by Burnett Guffrey, is produced by Ted Richmond, is scored by Morris W Stoloff and Hugo Friedhofer, and is designed by Carl Anderson.
© Derek Winnert 2017 Classic Movie Review 5631
Check out more reviews on http://derekwinnert.com