Snowden ****½ (2016, Joseph Gordon-Levitt, Shailene Woodley, Melissa Leo, Zachary Quinto, Rhys Ifans, Shailene Woodley, Nicolas Cage) – Movie Review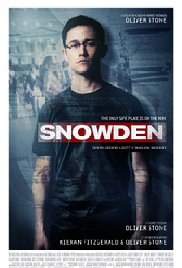 Joseph Gordon-Levitt is fired up and on fire as real-life NSA employee Edward Snowden who leaks thousands of the agency's classified documents about illegal surveillance techniques to the press. In a hotel room, he spills the beans to cameraperson Laura Poitras (Melissa Leo) and reporter Glenn Greenwald (Zachary Quinto). In flashbacks, we relive Snowden's life story, as he is befriended by NSA boss Corbin O'Brian (Rhys Ifans) and Hank Forrester (Nicolas Cage) and meets his love, Lindsay Mills (Shailene Woodley).
Director Oliver Stone's crackling, astonishingly good movie, tells a great, important story and tells it brilliantly. If Lion is an advert for Google Maps, Snowden is an advert for The Guardian, which breaks the story, but never mind. It might seem a bit smug, but it has a lot to be smug about.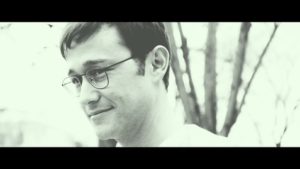 The spare, lean, fighting-fit screenplay by Stone and Kieran Fitzgerald is based on books by Anatoly Kucherena (The Time of the Octopus) and Luke Harding (The Inside Story of the World's Most Wanted Man). It works both as a tense thriller and info-drama, dispensing enough information and opinion but not bashing us over the head with facts or propaganda.
Gordon-Levitt is the main show, a bright spark, but Leo and Woodley both impress, while unexpected casting Ifans is outstanding, and Cage is entertaining. Tom Wilkinson plays Guardian reporter Ewen MacAskill and Joely Richardson plays Guardian executive Janine Gibson. Neither actor has much to do unfortunately, though Wilkinson isn't very good.
It is Stone's best film in  years, with the director firm and steady and commanding at the helm. Isn't it great to have a great movie about something important?
© Derek Winnert 2016 Movie Review
Check out more reviews on http://derekwinnert.com