Sneakers ***½ (1992, Robert Redford, Dan Aykroyd, Ben Kingsley, Mary McDonnell, River Phoenix, Sidney Poitier, David Strathairn) – Classic Movie Review 4084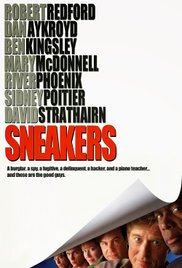 Co-writer/ director Phil Alden Robinson's attractive 1992 hacker movie and heist thriller stars Robert Redford as Marty Bishop, who heads a team of high-tech experts hired by companies to penetrate and test their security systems.
Two US Government agents threaten to expose the 'Sneakers' unless they join a covert operation to steal a top-secret black box. The team finds the box can decode all encryption systems around the world, and of course it turns out the agents don't work for the Government.
A smart, intelligent entertainment, Sneakers is a bright, brash and cocky caper thriller with lively handling, appealing performances from a quirky top cast and riveting technological detail.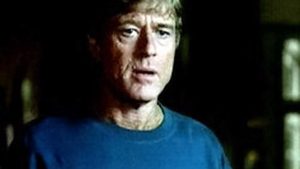 The well-crafted screenplay by Robinson, Walter F Parkes and Lawrence Lasker shows a lot of invention and a good sense of humour. Redford twinkles in an old-fashioned star role, and there is just enough room left for Sidney Poitier as the ex-CIA sneaker Donald Crease, Mary McDonnell as Liz, the girlfriend Redford embroils in the plot and Ben Kingsley as chief bad guy, Cosmo.
The exceptional cast is all over-qualified for such capering, wasting the likes of Dan Aykroyd as 'Mother' Roskow, River Phoenix as Carl Arbogast, George Hearn, David Strathairn as 'Whistler' Emery, Timothy Busfield, Stephen Tobolowsky as Dr Werner Brandes and James Earl Jones as NSA Agent Bernard Abbott. But never mind, they are all very welcome.
© Derek Winnert 2016 Classic Movie Review 4084
Check out more reviews on http://derekwinnert