Sleuth **** (2007, Michael Caine, Jude Law) – Classic Movie Review 4337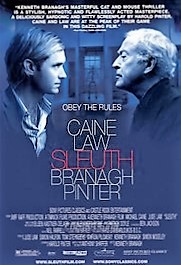 Michael Caine and Jude Law – who played Caine's old role in the underrated 2004 remake of Alfie – are perfect casting in yet another Caine remake – this time his 1972 hit thriller Sleuth, with Laurence Olivier.
The original film version of the hit Broadway and West End play by Anthony Shaffer – who won the 1971 Tony Award as author of Best Play – faithfully re-staged the class war between bestselling thriller writer Andrew Wyke and his trophy wife's toyboy Milo Tindle, with Olivier gleefully engaging Caine in a snobbish battle royale.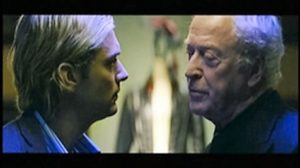 For the remake, the plot is essentially the same, but the two films couldn't be more different. Wyke's rambling country mansion has been transformed into the sort of hi-tech fortress in concrete, glass and blue steel beloved of Bond villains. And the late playwright Harold Pinter has rewritten Shaffer's ripe, amusing lines as dialogue oozing venom, sarcasm and self-pity.
There is a lot to enjoy in this sleek thriller. Caine is on commanding, first-class form, really relishing his witty lines, while Law gives sterling support. Pinter's screenply is very amusing and the posh sets and smart score are big assets. As director, Kenneth Branagh concentrates on the actors, the set and the script, focusing intently and stylishly.
With Caine playing an ageing thriller writer who plays a deadly game with his wife's struggling actor lover Law, the film is basically a two-hander. But Pinter makes a cameo as a man on the TV, with Branagh as Other Man on TV and Carmel O'Sullivan plays Maggie, while Alec Cawthorne and Eve Channing both make mysterious appearances.
Despite its abrupt ending, the film is highly intriguing and satisfying, showing that it is high time the play was revived on stage.
© Derek Winnert 2016 Classic Movie Review 4337
Check out more reviews on http://derekwinnert.com