Sleepy Hollow **** (1999, Johnny Depp, Christina Ricci, Miranda Richardson) – Classic Movie Review 223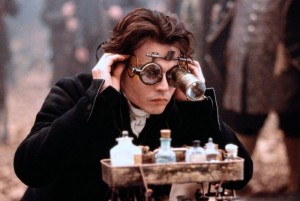 Director Tim Burton brings us a new nightmare in 1999 – well, an old one, dressed to kill – in this chilling, live-action remake of the 1949 Walt Disney cartoon The Legend of Sleepy Hollow. It's based on a famous story by Washington Irving.

For his third film with the director, the admirable Johnny Depp plays the understandably jittery, nervy hero and scores a big hit as cop Ichabod Crane, who arrives in the much troubled small town of Sleepy Hollow in 1799 to solve a murder mystery. Three people have suffered grisly decapitations, and the blame seems to point to a legendary apparition.

But he soon discovers that no one can sleep in Sleepy Hollow and he quickly finds it's difficult to keep his head because the ghost of the notorious Headless Horseman is at large in the woods, wielding a sword among the locals.

Burton conjures up a magically suspenseful horror comic through its brilliant mix of state-of-the-art effects, gorgeous sets and tasty ham acting. Thanks to its great production designs, retro-noir look like a Hammer film with a budget, and distinguished cinematography, the film's a total visual feast.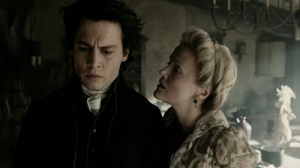 Despite its gory subject, and a little bit of well-staged horror content, it's really a very jovial, friendly entertainment, not much scarier than the Disney cartoon. This is partly because a top-notch cast (Christina Ricci, Michael Gambon and Miranda Richardson as the Van Tassels, plus Michael Gough, Richard Griffiths, Ian McDiarmid and Jeffrey Jones) are on such good, rollicking form.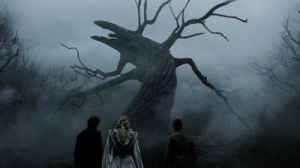 Even so, it's Depp's show, in a delightfully twitchy, extravagantly entertaining performance. Christopher Walken is the Headless Horseman, Christopher Lee plays the burgomaster and Martin Landau is Peter Van Garrett. Shame they don't have proper roles, but at least they're included.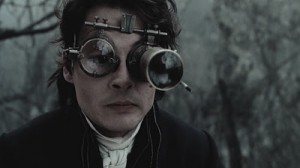 Made in the UK at Leavesden and Shepperton Studios, it's great scary fun, and a huge credit to stunning British craftsmanship.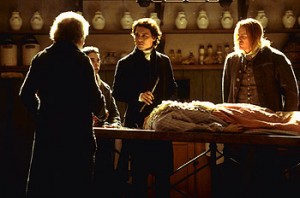 Art director Rick Heinrichs and set decorator Peter Young won the 2000 Oscar for Best Art Direction/Set Decoration. It's a visual masterpiece thanks to the production designs and Emmanuel Lubezki's eyeball-cuddling cinematography.
© Derek Winnert 2013 Classic Movie Review 223
Check out more reviews on http://derekwinnert.com/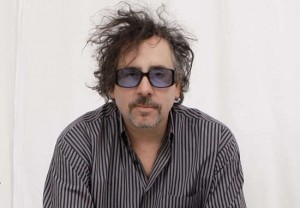 Tim Burton