Sleep, My Love *** (1948, Claudette Colbert, Robert Cummings, Don Ameche, Hazel Brooks) – Classic Movie Review 6306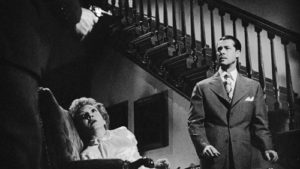 Director Douglas Sirk's 1948 film noir mystery thriller tells a rather familiar suspense story about a conniving Richard Courtland (Don Ameche) trying to drive his rich wife Alison Courtland (Claudette Colbert) insane so that he can marry the vamp Daphne (Hazel Brooks). But, fortunately, Bruce Elcott (played by Robert Cummings) is on hand, hopefully to save Colbert's Alison.
Familiar the story may be, but Sirk's film tells it well. Luckily too, the sparkling cast (look out also for Raymond Burr as police Detective Sergeant Strake) and Sirk's deft touch with tension, suspense and atmosphere give the mundane material the lift it needs. And there is fine Expressionist black and white cinematography from Joseph A Valentine to make it look smart.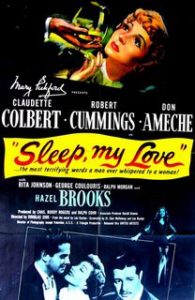 Silent stars Mary Pickford and her husband Charles Buddy Rogers produce for her United Artists studio. It is shot at the Hal Roach Studios, Culver City, California.
Leo Rosten wrote the source novel and co-operates on the script, along with St Clair McKelway, Cy Endfield and Decla Dunning.
Also in the cast are Rita Johnson, George Coulouris, Keye Luke, Ralph Morgan, Anne Triola, Queenie Smith, Fred Nurney, Maria San Marco, Lillian Bronson, Jimmie Dodd, Ralph Peters, Syd Saylor, Murray Alper, Eddie Dunn, Lillian Randolph and Bess Flowers.
It is scored by Rudy Schrager and designed by William Ferrari.
© Derek Winnert 2017 Classic Movie Review 6306
Check out more reviews on http://derekwinnert.com