Sirocco ***½ (1951, Humphrey Bogart, Marta Toren, Lee J Cobb, Everett Sloane, Gerald Mohr, Zero Mostel, Nick Dennis, Onslow Stevens) – Classic Movie Review 4273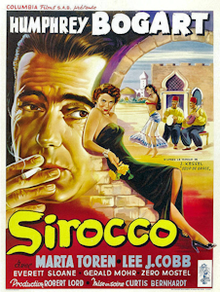 Director Curtis Bernhardt's 1951 film noir movie stars Humphrey Bogart in one of his best later roles as amoral American black marketeer Harry Smith, a former saloon owner turned gunrunner for the Syrian rebels under Emir Hassan (Onslow Stevens).
Yet this tense movie with its yarn about intrigue in 1920s Syria is relatively little known or well regarded. It is set in 1925 Damascus, where Harry is secretly selling the Syrians weapons to help their guerrilla war fight against the French rule of Syria.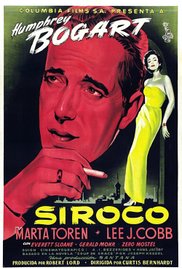 Bogart's robust, laid-back performance and the splendidly sinister support cast bring flavour and distinction to director Bernhardt's always intriguing romantic thriller, a distant but obviously recognisable cousin of Bogart's Forties hits such as Casablanca, with its similar mix of intrigue and romance in exotic places. In case audiences didn't get the connection, it was advertised by the Columbia studio as 'Beyond Casablanca… In Damascus… Destiny, in a low-cut gown, beckons from the Devil's Doorway!' Märta Torén co-stars as Feroud's unhappy mistress, Violetta, whom Harry starts to take a shine to. She'd be the one in a low-cut gown. What would Ingrid Bergman say! Come to that, What would Lauren Bacall say!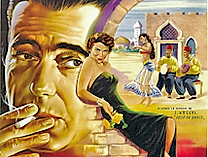 Outstanding in support are Lee J Cobb as French head of military intelligence, Colonel Feroud, Everett Sloane as French General LaSalle, Zero Mostel as Harry's friendly rival Balukjian, Onslow Stevens as rebel leader Emir Hassan, Nick Dennis as Harry's assistant Nasir Aboud and Gerald Mohr as Feroud's aide Major Leon. It is a very splendid cast, nearly as good as Casablanca's.
A I Bezzerides and Hans Jacoby's polished screenplay is based on Joseph Kessel's novel Coup de Grâce.
Also in the cast are Ludwig Donath, Harry Guardino, David Bond, Martin Wilkins, Peter Ortiz, Edward Colmans, Peter Brocco, Vincent Renno and Jay Novello.
© Derek Winnert 2016 Classic Movie Review 4273
Check out more reviews on http://derekwinnert