Sirens ***½ (1993, Hugh Grant, Tara Fitzgerald, Sam Neill, Elle Macpherson, Portia De Rossi, Kate Fischer, Ben Mendelsohn) – Classic Movie Review 4794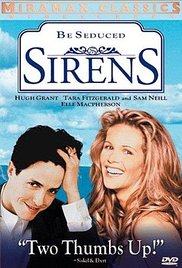 Writer-director John Duigan's civilized and seductive 1993 adult drama is a slim but entertaining and decidedly sexy anecdote, neatly played and handled.
Hugh Grant is most amusing with his English toff turn (though it is beginning to wear thin with over-familiarity) and Tara Fitzgerald is most engaging as his wife who takes the path to liberation. But the estimable Sam Neill, though ideally cast, is wasted, since he is given what amounts to almost nothing very much to do.
Vincent Ball plays the Bishop of Sydney who is shocked by a series of provocative paintings by the Australian artist Norman Lindsay (Neill). So he despatches a newly arrived young English clergyman Anthony Campion (Grant) and his wife Estella (Fitzgerald) to stop at Lindsay's house to persuade him to withdraw a painting called Crucified Venus, showing a naked woman on the Cross, from an international art exhibition.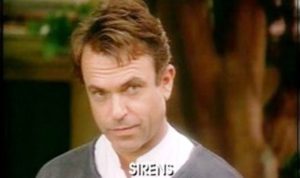 At the house, the couple find three young sexy female models named Sheela, Giddy and Pru (Elle Macpherson, Portia De Rossi, Kate Fischer) staying with Lindsay. And, as Estella becomes fascinated by them and beguiled by a hunk who lives in the Bush nearby, she becomes increasingly estranged from her silly ass of a husband, Anthony.
The intriguing, fascinating and beguiling film, made on location in the Blue Mountains and village of Sofala in New South Wales, looks as startlingly handsome as its participants in Geoff Burton's alluring cinematography. Rachel Portman's score is another asset.
Also in the cast are Pamela Rabe, Ben Mendelsohn, Mark Gerber and John Polson.
Hugh Grant and Tara Fitzgerald reunited for The Englishman Who Went Up a Hill But Came Down a Mountain (1995).
© Derek Winnert 2016 Classic Movie Review 4794
Link to home page for more reviews derekwinnert.com