Singin' in the Rain ***** (1952, Gene Kelly, Debbie Reynolds, Donald O'Connor) – Classic Movie Review 6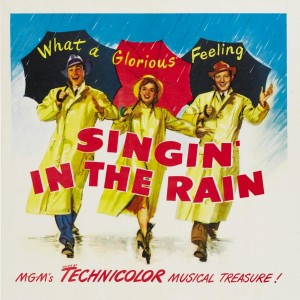 Hooray for most everybody's favourite, all-time great musical, with treasurable songs, a brilliantly witty sense of humour, a vibrant insider's sense of the cinema and a clutch of remarkable, exuberant turns.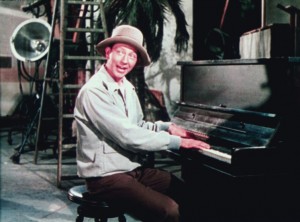 Jean Hagen plays Lina Lamont, a squeaky-voiced silent movie star who can't just adjust to the arrival of talking pictures in 1927, so her romantic on-screen co-star Don Lockwood (Gene Kelly) gets the girl he really loves, Kathy Selden (cute and perky Debbie Reynolds), to stand in for her behind the scenes doing the vocals. It's out with the old and in with the new.
Lina is a foolish dinosaur and Kathy is an aspiring actress looking for her big break and this just might be it, she could and get the guy at the same time. Donald O'Connor plays Kelly's ex-dancer partner Cosmo Brown, who likes to make 'em laugh.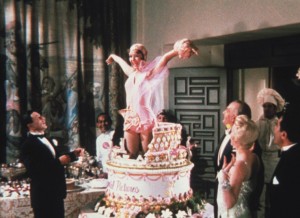 Betty Comden and Adolph Green's script about Hollywood at the coming of sound is a marvel of hood-natured, easy-going, charming wit, while the songs by Nacio Herb Brown (music) and producer Arthur Freed (lyrics), mostly economically recycled from other shows, are infectiously, delightfully delicious. They should be: it's kind of their greatest hits collection.
The performing by a special cast is absolutely lovely throughout. Kelly and Reynolds are at their stylish best, Hagen and O'Connor raise lots of laughs, and Cyd Charisse ravishes the eye as 'The Dancer'.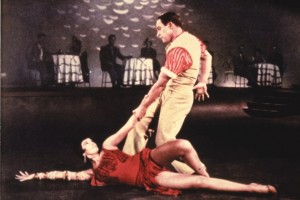 Co-directors Kelly and Stanley Donen also staged the musical numbers, which most notably include the invigorating sequence where Kelly wistfully sings and dances the title tune. It was previously used to little effect in 1929's The Broadway Melody but, with its reworking here, is deservedly elevated to one of the most famous sequences in any musical, endlessly copied and parodied.
Other showstopping scenes include O'Connor's comedic tour-de-force with 'Make 'Em Laugh', the star trio breathlessly performing 'Good Morning' and Kelly and Charisse's graceful 'Broadway Melody' ballet.
This exhilarating movie is one of the cinema's finest musical entertaiments, and one of the greatest achievements in any genre.
age of 84, just one day after her daughter Carrie Fisher.
http://derekwinnert.com/the-broadway-melody-1929-bessie-love-anita-page-charles-king-kenneth-thomson-eddie-kane-classic-movie-review-3624/
© Derek Winnert 2013 Classic Movie Review 6
Check out more reviews on http://derekwinnert.com/