Sing *** (2016, voices Matthew McConaughey, Reese Witherspoon, Seth MacFarlane, Scarlett Johansson, John C Reilly, Taron Egerton, Jennifer Saunders) – Movie Review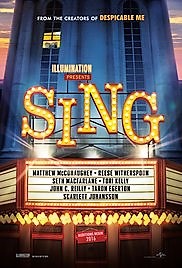 In the quest for something completely different, directors Christophe Lourdelet and Garth Jennings's 2016 animated feature is good quirky fun from Illumination Entertainment, with plenty of laughs, plenty of jolly songs, and plenty of amusing characters.
Matthew McConaughey voices talking koala Buster Moon, who runs a once-grand theatre now fallen on hard times. The resourceful Buster decides to produce the world's greatest singing competition to restore it to its former glory. His prize money of $1,000 is accidentally raised to $100,000 on the posters by his inept secretary, whose glass eye keeps popping out.
Why Buster is a koala, don't ask me. He just is. The story is set in a parallel universe entirely inhabited by animals. Well, it's possible. No, it's not! Oh, it's only an animated movie. This story, scripted by Epping, Essex boy Garth Jennings, the director of The Hitchhiker's Guide to the Galaxy (2005) and Son of Rambow (2007), would be quite strange enough even if it was animal centred. But then that's what's good about it.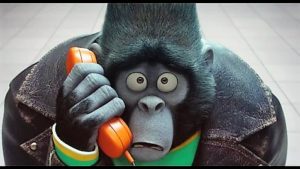 Jennifer Saunders provides by far the most distinctive and amusing voice as rich veteran Nana, who may or may not come to the rescue of old Buster. Also in the voice cast are Reese Witherspoon as Rosita, Seth MacFarlane as Mike, Scarlett Johansson as Ash, John C Reilly as Eddie, and Taron Egerton as Johnny. The voice cast is as quirky as the movie.
With an interestingly unusual plot, the cute characters, attractive CGI animation, lots happening and a toe-tapping run-through of all the old pop songs, this is a cheery laugh and a knees-up for young and old.
For the logo at the start, four Minions have some fun singing 'Illumination'. So, as a work of the studio, it is from the creators of Despicable Me (2010) and Despicable Me 2 (2013) as well as Minions (2015).
© Derek Winnert 2017 Movie Review
Check out more reviews on http://derekwinnert.com