Silent Movie **** (1976, Mel Brooks, Sid Caesar, Marty Feldman, Dom DeLuise, Bernadette Peters) – Classic Movie Review 4045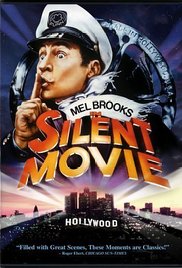 Great days with Mel Funn! Co-writer/ director Mel Brooks's inventive and hilarious 1976 movie is a pleasure to watch. It cleverly revives the long-lost art of silent comedy, with Brooks directing himself in a funny turn as the flop movie director Mel Funn aiming at a revival himself under studio boss Sid Caesar. Entirely written as subtitles, the slapstick knockabout gags are, as usual with Brooks, scatter-gun hit-and-miss, but there are some really big laughs.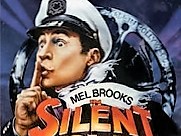 The deliciously droll and amusing performances from Caesar, Marty Feldman and Dom DeLuise (as aspiring film-makers Marty Eggs and Dom Bell) and Bernadette Peters (as Vilma Kaplan) greatly add to the fun, as do guest stars Anne Bancroft, Paul Newman, Burt Reynolds, James Caan and Liza Minnelli, also including mime artist Marcel Marceau, who inevitably but satisfyingly utters the movie's only word. Barry Levinson, Ron Clark and Rudy DeLuca helped Brooks on the screenplay.
Also in the cast are Harold Gould, Fritz Feld, Ron Carey, Carol Arthur, Liam Dunn, Harry Ritz, Henny Youngman, Patrick Campbell, Rudy DeLuca, Barry Levinson and Howard Hesseman.
© Derek Winnert 2016 Classic Movie Review 4045
Check out more reviews on http://derekwinnert