Sid and Nancy **** (1986, Gary Oldman, Chloe Webb, David Hayman) – Classic Movie Review 4098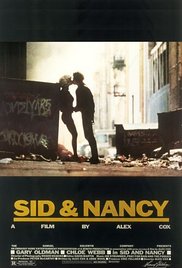 Alex Cox co-writes (with Abbe Wool) and directs this exceptionally powerful and exciting punk rock cult classic about the life of Sid Vicious, bassist with the British punk rock band the Sex Pistols, and the death of his American groupie girlfriend Nancy Spungen. The biographical story starts with Sid is being arrested for Nancy's murder when she is found stabbed to death in New York City and is told in flashback. It goes back to how Sid met Nancy, and climaxes as Sid attempts an American solo career, with Nancy's help, while in the grip of heroin and everything else addiction when the Sex Pistols break up after their fateful US tour.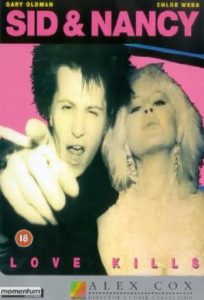 In showy but difficult-to-play roles as wasted characters relishing wasted lives, a skinny, hungry-looking Oldman (when he was a youngman, aged 28) is tremendous as Sid, winning the Evening Standard British Film Award as Most Promising Newcomer (well they got that right!), and Webb isn't far behind in her film debut as the scarily dependent and unhinged Nancy (the Boston Film Critics voted her Best Actress). They provide the human factor in a surprisingly funny but necessarily downbeat, upsetting movie, and Cox is on top of the dark-toned material, finding offbeat laughs everywhere.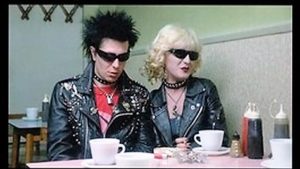 Black humour, touching humanity and compassion for the characters keep popping up through this brilliant original film, made with enormous amounts of style and zest by Cox, who mixes realism with fantasy and finds a moving twisted love story in the unlikeliest of places. Weirdly, it plays both realistically and as a satire, seeming to exist simultaneously on both levels. We never really get to know why Sid and Nancy are together, just that they are both burnt-out cases desperately clinging to the wreckage that are each other.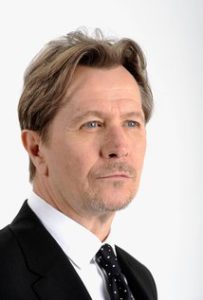 With the brilliant soundtrack and location shooting, there's a marvellous flavour of the era and the movie looks great too. There is very striking imagery both in London and New York by cinematographer Roger Deakins, who supervises the 30th anniversary restoration and re-release on 22 August 2016.
It also stars David Hayman as Sex Pistols manager Malcolm McLaren, Andrew Schofield, Debby Bishop, Tony London, Perry Benson, Gloria LeRoy, Xavier Berekley, Edward Tudor-Pole, Sy Richardson, Kathy Burke (funny as young punk Brenda Windzor), Biff Yeager, Courtney Love, Iggy Pop and Rusty Blitz.
Malcolm McLaren, the former manager of punk group the Sex Pistols, died on 8 April 2010 in Switzerland aged 64.
© Derek Winnert 2016 Classic Movie Review 4098
Check out more reviews on http://derekwinnert