Shaun of the Dead **** (2004, Simon Pegg, Nick Frost, Kate Ashfield) – Classic Movie Review 111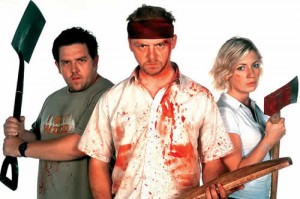 Simon Pegg stars in this outstanding, frenzied, often hilarious 2004 British horror comedy, as going-nowhere 29-year-old London electric shop salesman Shaun. He loses his girlfriend Liz (Kate Ashfield), upsets his mum and is attacked by a plague of zombies all in the same day. Before the day's over, he needs to win back his girl, patch it up with his mum and tackle the little situation with the zombies. All, preferably without being eaten.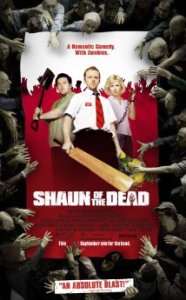 In one sense, the bizarre Dawn of the Dead-Evil Dead-Night of the Living Dead parody idea is no more than something you'd think up in a drunken late night in a pub, and the film runs like an extended TV sketch that at first seems hasn't got much more than its title to recommend it. Nevertheless, after a flattish first 20 minutes or so, this laddish Britcom does engage top gear and get going into laughter overdrive, producing a really high quota of silly, often gross laughs, before ending up in a zombie-splatter sequence in and around the characters' local, the Winchester pub.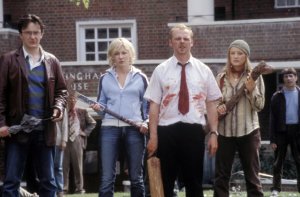 Pegg does extremely well to keep his character engaging and amusing throughout, Nick Frost is very funny as his tubby flatmate Ed, and Penelope Wilton and Bill Nighy score strongly as Shaun's mum and stepfather. Whether or not it means to, it shows, once again, how useless zombies are as scary monsters.
The first, and best, of the 'Blood and Ice Cream' trilogy by director Edgar Wright, writer/star Pegg and Frost that includes Hot Fuzz (2007) and The World's End (2013). Backed by Working Title, it makes a nice, welcome change from, and antidote to, their breezy romcoms, though the Brit zomcoms probably don't travel so well and they're probably not nearly as lucrative. But funny's in seriously short supply, and this film's seriously funny.
Frightfest organiser and film critic Alan Jones can be seen as a zombie walking past the phone box by the pub.
© Derek Winnert 2013 Classic Movie Review 111
Check out more reviews on http://derekwinnert.com/