Shadows and Fog ** (1991, Woody Allen, John Cusack, Mia Farrow, Kathy Bates, Jodie Foster, Lily Tomlin, Donald Pleasence, Madonna, Fred Gwynne, Julie Kavner, John Malkovich) – Classic Movie Review 5755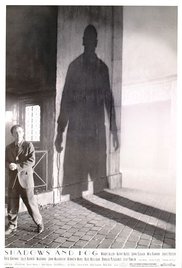 Writer-director-star Woody Allen's 1991 movie pastiches the 1920s melodrama, complete with black and white and chiaroscuro effects, and a tale of a Jack the Ripper-style murderer on the loose in the shadows and fog. It looks like Allen been watching Hitchcock's The Lodger (1927).
Allen plays bookkeeper Kleinman, the usual schmuck who toadies to his peeping Tom boss, helps circus girl Irmy (Mia Farrow) and meets the doctor (Donald Pleasence), who is dissecting the murder victims' bodies. Farrow is befriended by whorehouse madam Prostitute (Lily Tomlin), and, staying overnight at the brothel, she is tempted into prostitution by an absurdly large fee from college kid Student Jack (John Cusack).
There is plenty of plot but it isn't actually very interesting, and there are quite a number of witty lines but they aren't actually very funny. Allen, looking a bit elderly and stooped, turns in a modified 1920s-style silent acting performance, and, unusually, he seems slightly in trouble both as writer and performer.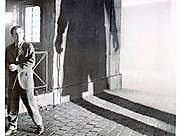 The way the movie looks is by far the best thing about it. It is a stylish art object. The gorgeous re-creation of the 1920s period style is filmed on atmospheric sets designed by Santo Loquasto –  and Carlo di Palma's black and white photography is a real eyeful.
Also in the cast are Kathy Bates, Jodie Foster and Anne Lange as prostitutes, Madonna as Marie, Fred Gwynne, Julie Kavner, John Malkovich, Kenneth Mars, Kate Nelligan, Philip Bosco, Robert Joy, Wallace Shawn, Kurtwood Smith, Josef Sommer, David Ogden Stiers, John C Reilly, Peter McRobbie, Daniel von Bargen, Victor Argo, James Rebhorn and William H Macy, with Michael Kirby as the Killer.
It cost $14,000,000 and took only $2,735,000 at the US box office.
It was premiered in New York City on 5 December 1991, and shown at the Berlin Film Festival on 15 February 1992. It was released in the US on 20 March 1992. It was planned for UK release in on 23 October 1992, but pushed back to 12 February 1993 to make way for Allen's controversial Husbands and Wives (1992).
Peeping Tom was of course the legendary tailor of Coventry, England, who was the only person to see the naked Lady Godiva.
Lady Godiva Rides Again (1951).
Peeping Tom (1960).
© Derek Winnert 2017 Classic Movie Review 5755
Check out more reviews on http://derekwinnert.com