Shadowlands **** (1993, Anthony Hopkins, Debra Winger, Edward Hardwicke, Michael Denison, John Wood, Joseph Mazzello, Julian Fellowes, Peter Firth, Robert Flemyng) – Classic Movie Review 5757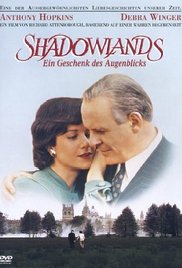 Producer-director Richard Attenborough's 1993 cinema version of William Nicholson's TV and stage play is a wonderfully warm-hearted and poignant experience. It won the Alexander Korda Award for Best British Film at the 1994 BAFTA Awards. there were two 1994 Oscar nominations.
Anthony Hopkins, at the peak of his powers, gives an overwhelming performance as the writer and Oxford don C S Lewis (author of the popular Chronicles of Narnia children's books) and Debra Winger (Oscar nominated as Best Actress) gives a precise and compelling one as the American divorcée poet Joy Gresham whom he meets and gradually falls for.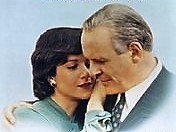 C S 'Jack' Lewis, the world-renowned Christian theologian, writer and professor, teaches at Oxford University in the Fifties and is leading a life of the intellect without love and passion. But then things change when he meets the spirited poetess, an American fan, who arrives to meet him for tea in Oxford.
Attenborough takes this long (131 minutes) film at a steady but intense and pressing pace, pausing to take in lots of Fifties period detail, Oxford atmosphere and some big emotional moments.
Nicholson (Oscar-nominated for Best Adapted Screenplay) writes his own screenplay and he ensures that there plenty of information, entertainment and heart ache, as well as enough food for thought, and this is a film that provides a lot of comfort and bursts of joy.
Some stalwarts of the British acting profession turn in model performances, particularly Edward Hardwicke as Lewis's taciturn, alcoholic brother Warnie Lewis, Michael Denison as the college president Harry Harrington and John Wood as a cantankerous fellow don, Christopher Riley. Joseph Mazzello (from Jurassic Park, which starred Attenborough) makes a good impression as Gresham's young son, Douglas.
Also in the cast are Peter Firth, Robert Flemyng, Julian Fellowes, Peter Howell, Roddy Maude-Roxby, Andrew Seear, Tim McMullan, James Frain and Andrew Hawkins.
It is Denison's last film, before his death in 1998.
Edward Hardwicke (1932–2011).
John Wood (1930–2011).
It is the last film of Robert Flemyng (1912–1995).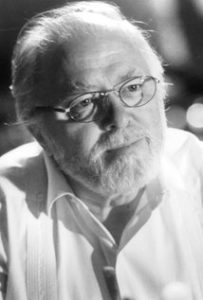 Lord Richard Attenborough (born 29 ied 24
Shadowlands was previously made for TV by director Norman Stone in 1985 with Joss Ackland and Claire Bloom. It brought a deserved BAFTA award for best play and Bloom was best actress.
© Derek Winnert 2017 Classic Movie Review 5757
Check out more reviews on http://derekwinnert.com