Sex and the City **** (2008, Sarah Jessica Parker, Kim Cattrall, Cynthia Nixon, Kristin Davis) – Classic Movie Review 1441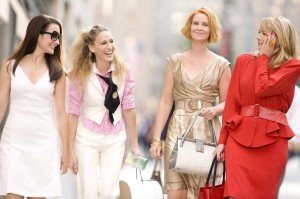 Will Carrie and Big finally tie the knot? That is the Big question behind the 2008 big romantic comedy hit that grossed $152million in America and £26million in the UK, with a worldwide total of $415million.
The highly fashionable Sarah Jessica Parker returns as New York author and fashion icon Carrie Bradshaw to tell her saucy tales of sex and the single girl in this long-awaited big-screen spin-off from the long-running TV show that ended in February 2004.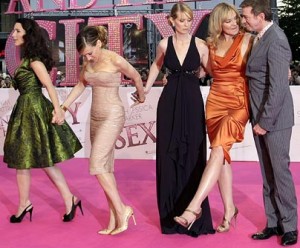 If her best-laid plans with Mr Big (Chris Noth) soon go spectacularly awry, her pals Samantha (Kim Cattrall), Charlotte (Kristin Davis) and Miranda (Cynthia Nixon) are getting their knickers in a twist with their blokes too. As Parker rushes headlong into her wedding plans, the frosty Nixon splits from her unfaithful husband Steve (David Eigenberg), cool beauty Davis has adopted a child and the ever lusty Cattrall still has still sex with her hunky model-boy pal Smith (Jason Lewis) on the brain.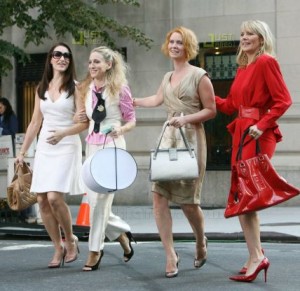 Bright, lively, sexy and unashamedly romantic, this well-heeled TV spinoff is a fabulous entertainment for the girls. There's less biting wit and fewer rude bits than in the TV series – and it's disappointing that series regulars Mario Cantone (the wedding planner), Willie Garson (Carrie's gay best friend) and Lynn Cohen (Miranda's nanny) have so little to do and that Jennifer Hudson's role as Carrie's new helper is so underwhelming.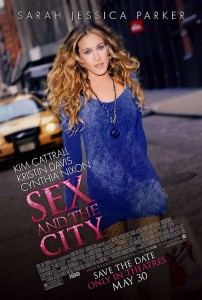 But still, this is such fun. Confidently handled by Michael Patrick King, TV show's executive producer and regular writer, the movie keeps bouncing brassily along without pausing for breath for two and a half hours, providing deliciously appealing romantic, escapist entertainment. The jokes are sharp, the clothes are smart and, underneath all that surface gloss, the movie also has a heart.
The world premiere took place at Leicester Square, London, on May 15 2008 and premiered on May 28 2008 in the United Kingdom and May 30 2008 in the United States. By the time this first one opened in the UK, Sex and the City 2 was already a certainty and indeed it duly followed in 2010.
Incidentally, for those not in the know, the opening credits cleverly compress the last few years of the four friends' lives into a recap.
Based on the book and characters by Candace Bushnell of course.
Rated R for strong sexual content, graphic nudity and language.
© Derek Winnert 2014 Classic Movie Review 1441
Check out more reviews on http://derekwinnert.com/