Seven Years in Tibet *** (1997, Brad Pitt, David Thewlis, B D Wong, Mako) – Classic Movie Review 696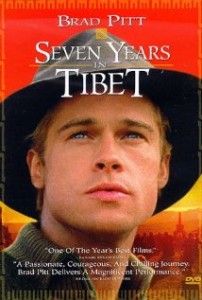 Brad Pitt stars as real-life Austrian mountain climber Heinrich Harrer in director Jean-Jacques Annaud's 1997 film about Harrer's adventures in Tibet during and after World War Two. Notably, he becomes friends with the Dalai Lama at the time of China's takeover of Tibet, filling the gaps in the child's knowledge about the world, while hearing the teachings of Lord Buddha.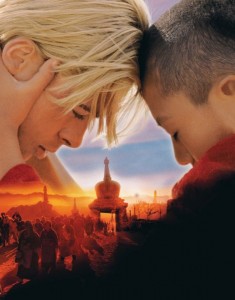 Though based on Harrer's autobiographical book, Becky Johnston's inventive screenplay plays fast and loose with the facts. But Seven Years in Tibet is a great-looking movie that does a great job of entertaining while accurately conveying the time and place.
The exotic locations and the spectacular cinematography by director of photography Robert Fraisse are recommendations in themselves. And Pitt makes a strong, sterling, stalwart hero, with just the right blond, Aryan look and accent.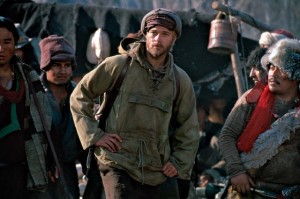 Johnston's screenplay is a mixed bag. It is sometimes wise and witty and sometimes shallow and unconvincing, with its hold on Tibetan culture shaky. But, overall, it works really quite well and involvingly, forming a solid basis for an enjoyable film.
David Thewlis plays Peter Aufschnaiter, B D Wong is Ngawang Jigme and Mako is Kungo Tsarong.
© Derek Winnert 2014 Classic Film Review 696
Check out more reviews on derekwinnert.com