Seven Women *** (1966, Anne Bancroft, Sue Lyon, Margaret Leighton, Flora Robson, Mildred Dunnock, Betty Field, Anna Lee, Eddie Albert) – Classic Movie Review 3995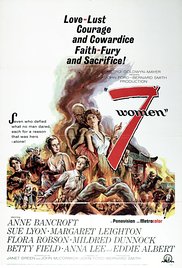 Director John Ford assembles a distinguished cast for his last film, an untypical 1966 pseudo-Western about seven dedicated missionary women in 1935 China menaced by a barbaric Mongolian warlord called Tunga Khan and his cut-throat warriors.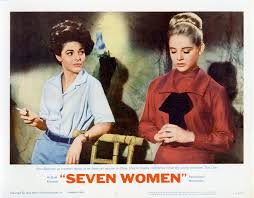 Anne Bancroft stars as the tough atheist doctor D R Cartwright, Flora Robson plays the head of the British mission Miss Binns, Margaret Leighton is the rigid mission administrator Head of Mission Agatha Andrews, and Sue Lyon is Mission Staff member Emma Clark, Mildred Dunnock is the Head of Mission's Assistant Jane Argent, Betty Field as the Mission Teacher's pregnant wife Mrs Florrie Pether and Anna Lee as Mission Staff member Mrs Russell, making up the movie's starring seven women.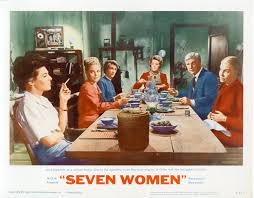 You can feel the force of the high-quality acting, as you would expect from this cast, and there is top-level direction from an involved and committed Ford. And it is fascinating to find Ford using a sympathetic actress and portraying a sympathetic heroine, having a cast almost entirely female and avoiding his usual Achilles' heel of displays of sentimentality.
However, good though it is, nevertheless it is hard not to feel a slight sense of disappointment with the result, which does not approach Ford's best films for power and stature.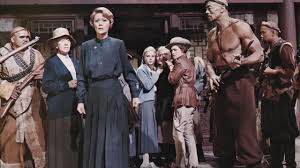 It also stars Eddie Albert as Mission Teacher Charles Pether, Mike Mazurki as Bandit Leader Tunga Khan and Woody Strode as Lean Warrior.
Janet Green and John McCormick carve out the screenplay from the short story Chinese Finale by Norah Lofts.
Also in the cast are Jane Chang as Mission Staff member Miss Lee, Hans William Lee as Mission Staff member Kim, H W Gim and Irene Tsu.
Bancroft replaced original star Patricia Neal, who suffered a stroke during filming.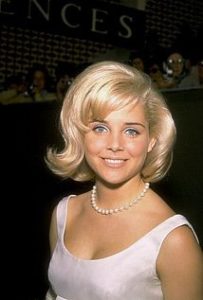 Sue Lyon, one-time Lolita for Stanley Kubrick, was 70 on 10 July 2016.
© Derek Winnert 2016 Classic Movie Review 3995
Check out more reviews on http://derekwinnert.com