Sergeant York ***** (1941, Gary Cooper, Walter Brennan, Joan Leslie) – Classic Movie Review 2345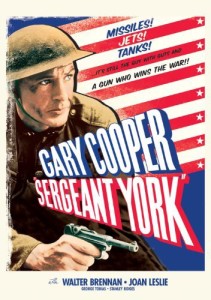 Director Howard Hawks's double Oscar-winning 1941 war drama stars Gary Cooper who won the Best Actor Oscar for his portrayal of the Tennessee hick farmer Alvin York. The hillbilly sharpshooter puts aside his claims to be a pacifist to be drafted in World War One and ends up becoming a war hero as Sergeant York. It was the highest grossing film of 1941.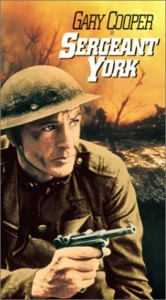 In the middle of World War Two, the unashamedly patriotic true-life story was right for the times, though it seems uncomfortable and unfashionable now with its blatant pro-war flag-waving. But Cooper still looks noble and gives a sterling performance of courage under fire, the action is lavishly staged and authentically re-created and director Hawks is the right man for the task of helming it, moving the movie along vigorously.
York becomes converted from his hard-drinking, roustabout ways by a bolt of lightning and later single-handedly attacks and captures a German position using the same strategy as in turkey shoot. (The lightning bolt was an screenwriters' invention as York was actually converted to being a Sunday-school teacher by his wife.) He captured 132 Germans unaided in Argonne in 1918 and thus eventually through this biopic inspired the American people to join World War Two and ordinary American people to enlist. York had refused to allow a movie to be made of his life, believing 'this uniform ain't for sale'.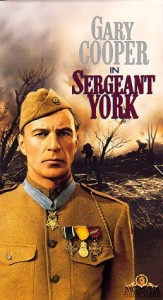 After trying several times, beginning in 1919, producer Jesse Lasky finally convinced York that, with war threatening in Europe, it was his patriotic duty to allow the film to proceed. York agreed but only on condition that he could supervise the film and that Cooper would play him.
Cooper at first turned down the role, but when York himself contacted the star, Cooper agreed, though at nearly 40, he was too old to play York who was not quite 30 at the time of the battle. York also insisted that his share of the profits would be contributed to a Bible School York wanted constructed and that no cigarette smoking actress could be chosen to play his wife and 'no oomph girls!' Joan Leslie was 16 when she made this film, the same age as the real Gracie.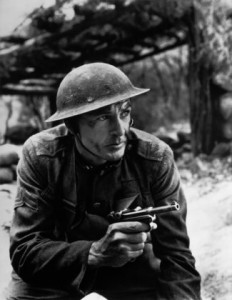 York was accordingly on the set for a few days. When one of the crew members asked him how many Jerries he had killed, York started sobbing and threw up. The crew member was going to be fired but next day York insisted the man keep his job.
William Holmes won the second 1942 Oscar for Best Film Editing, but nine other nominations, including for Best Film, didn't turn into winners. Cooper also won the Best Actor Oscar at the 1941 New York Film Critics Circle Awards.
Walter Brennan (as Pastor Rosier Pile) and Margaret Wycherly (as Mother York) were Oscar nominated as support actors. Also in the cast are George Tobias, David Bruce, Stanley Ridges, Ward Bond, Noah Beery Jr, June Lockhart, Dickie Moore, Clem Bevans, Howard Da Silva and Charles Trowbridge.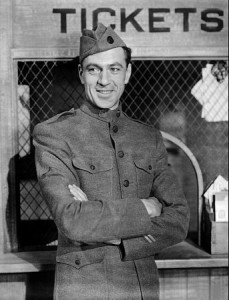 Picking up his Oscar, Cooper said: 'It was Sergeant Alvin C York who won this award. Shucks, I've been in this business 16 years and sometimes dreamed I might get one of these things. That's all I can say! Funny, when I was dreaming, I always made a good speech.' Cooper was unable to participate in World War Two because of his age and an old hip injury. He said: 'Sergeant York won me an Academy Award, but that's not why it's my favourite film. I liked the role because of the background of the picture, and because I was portraying a good, sound American character.'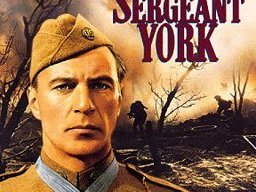 When the film was being made, American public opinion was isolationist and Jesse Lasky avoided marketing it as a war movie.  By the film's release, Adolf Hitler had conquered much of Europe and the public attitude towards war changed greatly and there were stories of young men leaving cinemas and immediately signing up.
Clint Eastwood says this was the first movie he saw.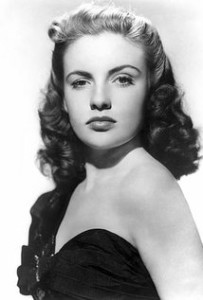 Joan Leslie died on October 12 2015, aged 90. Among her best-known movies are Sergeant York, High Sierra (1941), Yankee Doodle Dandy (1942), This Is the Army (1943) and The Sky's the Limit (1943).
© Derek Winnert 2015 Classic Movie Review 2345
Check out more reviews on http://derekwinnert.com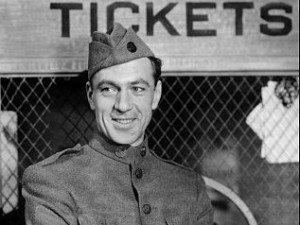 .