Senso ***** (1954, Farley Granger, Alida Valli, Massimo Girotti, Heinz Moog) – Classic Movie Review 2410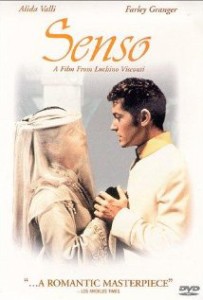 One of the gay Marxist aristocrat Luchino Visconti's greatest films, this highly emotional, elegantly staged and gorgeous-looking 1954 world cinema romantic masterpiece tells the story of the tragedy of an Italian woman who betrays her entire country for a self-destructive love affair with an Austrian man.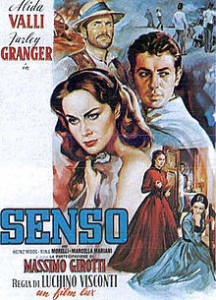 It is an adaptation of the Italian novella Senso by Camillo Boito, a famous Italian author and architect, written around 1882. The novella, typical of Scapigliatura literature, which was at its peak at the time, develops a disturbing account of indiscriminate indulgence in selfish sensuality. The word senso is Italian for sense, feeling or sentiment.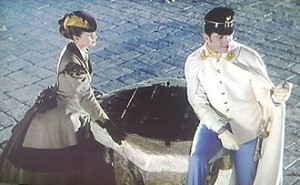 Franco Zeffirelli and Francesco Rosi, later accomplished film and theatre directors, worked as Visconti's assistants on the film. Visconti wanted Ingrid Bergman and Marlon Brando in the lead roles, but Bergman passed and the producers preferred Farley Granger as a bigger star at the time.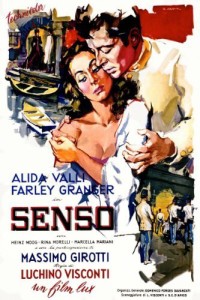 Alida Valli stars as the troubled and neurotic Italian noblewoman Countess Livia Serpieri, who insanely sacrifices her country and her marriage for the love of the handsome, but vile and cowardly Austrian officer Lieutenant Franz Mahler (Farley Granger) during his country's occupation of Italy in 1866.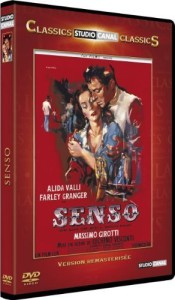 It starts in Venice La Fenice opera house in the spring of that year, when a performance of Verdi's Il Trovatore ends up in confusion because of an anti-Austrian demonstration organised by Il Marchese Roberto Ussoni (Massimo Girotti), whose cousin Countess Serpieri falls in love with Mahler.
After La Fenice was destroyed by arson in 1996, enlarged frames of this movie were used as a reference in reconstructing it and it reopened in 2003.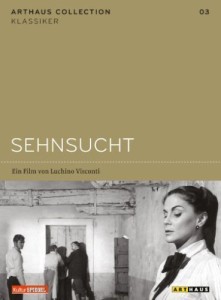 Visconti brings all his passion, expertise, taste and love for Italian grand opera to the cinema in the high-flown emotional and visual splendour and extravagance of this gloriously opulent historical romantic melodrama of twisted relationships and doomed romance.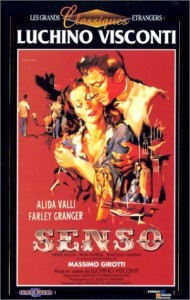 The stars are just perfect. The tragic-looking Valli suffers passionately and Granger, properly employed for once outside of his two distinguished Hitchcock appearances in Rope and Strangers on a Train, is convincing as an excuse for a man who is as callously promiscuous as he is dashingly handsome.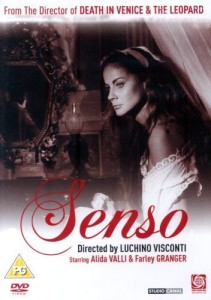 G R Aldo and Robert Krasker's Technicolor cinematography is exquisitely luscious – an absolute knockout that crowns a gorgeous, most sumptuous production. It can be regarded as a marvellous full-scale dress rehearsal for Visconti's even greater masterpiece The Leopard, also set during the Risorgimento. Aldo died during production and Krasker replaced him.
The magnificent full-length restored and remastered director's cut runs 123 minutes. A 93-minute American version, in a print edited down and cut by 30 minutes and hilariously called The Wanton Contessa, was dubbed with Tennessee Williams dialogue.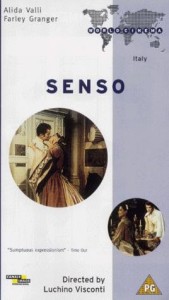 In his regular profligate and wanton way, Visconti insisted on fresh-cut flowers on every set each morning, even if there was no filming there.
When Granger quarrelled with Visconti near the end of filming and quit the set and Italy, Visconti for the final sequences used a double who was told to keep his hands in front of his face and then face the wall. This does produce an odd effect, a little hiccup in a great film.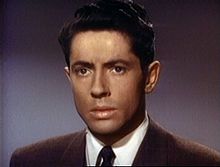 Filming in Italy lasted nine months, and Granger frequently was idle, allowing him free time to explore Italy and even spend a long weekend in Paris, where he had a brief affair with Jean Marais.
© Derek Winnert 2015 Classic Movie Review 2410
Check out more reviews on http://derekwinnert.com