Seconds **** (1966, Rock Hudson, Will Geer, John Randolph, Salome Jens, Wesley Addy, Jeff Corey, Richard Anderson, Murray Hamilton, Karl Swenson) – Classic Movie Review 6248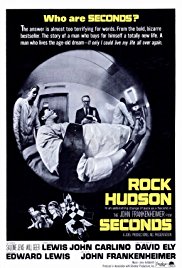 Director John Frankenheimer's splendid, showy 1966 Faustian sci-fi thriller offers an excellent chance for Rock Hudson to show his underrated acting skills as the unhappy middle-aged banker hero Tony Wilson, who goes to a creepy organisation that offers him his youth back again with a new look and identity as another person. As with any pact with the Devil, of course, there is a price to pay.
The chilling, clever yarn, taken from David Ely's novel, is told with plenty of drive, imagination and flair by screen-writer Lewis John Carlino and director Frankenheimer, and it builds steadily and compellingly to an unusually strong finish.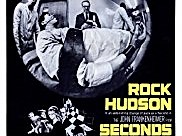 The surreal Seconds is visually stunning in glorious black and white, with a startling use of camera contortions from veteran cinematographer James Wong Howe, who was nominated for an Oscar for Best Cinematography, Black-and-White.
The film was nominated for the Palme D'Or at the 1966 Cannes Film Festival.
Also in the cast are John Randolph, Will Geer, Salome Jens, Jeff Corey, Richard Anderson, Murray Hamilton, Wesley Addy, Karl Swenson, Khigh Dhiegh, Frances Reid, Elisabeth Fraser, John Lawrence, Dody Heath, Robert Brubaker, Dorothy Morris, Barbara Werle, Frank Campanella, Edgar Stehli, Ned Young and Kirk Duncan.
Former Forties film star Carla Balenda has an uncredited role as Operating Room Nurse in her final appearance.
It is produced by John Frankenheimer and Edward Lewis, scored by Jerry Goldsmith and designed by Ted Haworth.
© Derek Winnert 2017 Classic Movie Review 6248
Check out more reviews on http://derekwinnert.com