Sebastiane *** (1976, Leonardo Treviglio, Barney James, Neil Kennedy, Richard Warwick, Donald Dunham, Ken Hicks, Lindsay Kemp) – Classic Movie Review 5021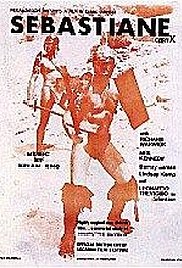 Writer-directors Derek Jarman and Paul Humfress's controversial 1976 homoerotic look at the 300 AD life of Saint Sebastian (Leonardo Treviglio) is filmed tastefully entirely in Latin (the world's only film in this dead language) on a shoestring budget in Sardinia.
It includes Saint Sebastian's iconic martyrdom by arrows and is notable as Jarman's director debut after his break into the film industry as production designer for Ken Russell's The Devils (1971).
The quaintly outrageous opening orgy at the Emperor Diocletian's court and the frontier guards' erotic nude wrestling and bathing, tame though they are, caused a furore when the film was first screened on British TV.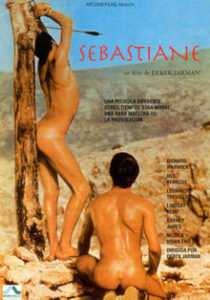 It is imaginatively made within its part-amateur confines and, even if some of the acting and the low budget let it down, Jarman's vision and painter's eye shine through.
'It's perhaps the first film that depicts homosexuality in a completely matter of fact way,' he said.
Although there are male nudes everywhere, it is not solely aimed at a specialised gay audience.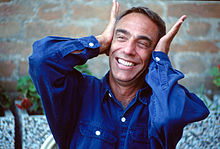 Also in the cast are Barney James as Severus, Neil Kennedy as Maximus, Richard Warwick as Justin, Donald Dunham as Claudius, Ken Hicks as Adrian, Lindsay Kemp (who also choreographs), Daevid Finbar as Julian, Steffano Massari as Marius, Janusz Romanov as Anthony, Gerald Incandela as Leopard Boy and Robert Medley as the Emperor Diocletian.
Jack Welch did the Latin translation. James Waley co-writes and co-produces.  the music is by Brian Eno and Andrew Thomas Wilson.
The Emperor Diocletian's guests include Peter Hinwood, Nell Campbell and Patricia Quinn (all of The Rocky Horror Show fame), Jordan, Philip Sayer, Charlotte Barnes, Nicholas de Jongh, Duggie Fields, Christopher Hobbs, Andrew Logan, and Johnny Rozsa.
© Derek Winnert 2017 Classic Movie Review 5021
Check out more reviews on http://derekwinnert.com